Poland and Slovakia become first NATO countries sending MiG-29 jets to Ukraine
Comments
By Euronews with AFP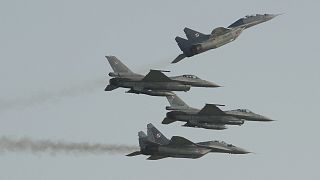 Poland and Slovakia are the first NATO countries to say they'll send fighter jets to Ukraine. 
Poland will deliver a first batch of four MiG-29 fighter-bombers, Polish President Andrzej Duda announced Thursday. 
Meanwhile Slovakia's government has approved a plan to give Ukraine its fleet of 13 Soviet-era MiG-29s.
Prime Minister Eduard Heger announced the unanimous decision of his government on Friday. Slovakia grounded its fleet last year and no longer uses the jets.
Kyiv has repeatedly asked its Western allies to send it modern fighter-bombers, hoping to get American F-16s.
The Polish decision "does not change" the US refusal to do the same, White House spokesman John Kirby said Thursday, following the Polish announcement. 
"It does not change our analysis. (...) It's not on the table," he told reporters, recalling that President Joe Biden had publicly opposed the delivery of combat aircraft to Ukraine.
Reacting to Warsaw's announcement, Ukrainian Air Force spokesman Yuriy Ignat said: "MiGs will not solve the problems, we need F-16s. But the MiGs will help to strengthen our capabilities.
Hoping for a "broader coalition"
A Kremlin spokesperson said Friday that the Mig-29 fighter planes that Poland and Slovakia will soon deliver to Ukraine will be "destroyed," and denounced the "increasing involvement" of NATO countries in the conflict. 
"The delivery of this military equipment, as we have repeatedly said, cannot affect the outcome" of the conflict, Kremlin spokesman Dmitry Peskov told reporters. "Of course, this equipment will be destroyed," he added.
During his press conference, the Polish president added that "other aircraft are currently undergoing maintenance and will probably be transferred at a later stage". 
"We can therefore say that we are about to send these MiGs to Ukraine," he said, adding that Poland has some 15 MiGs, inherited in the 1990s from the armed forces of the German Democratic Republic, GDR.
"These MiGs are still in service in the Polish air force. These are the last years of operation of these aircraft which are still, for the most part, operational," President Duda said.
He added that the MiG-29s are "aircraft that Ukrainian pilots can use today without additional training".
On Thursday morning, Polish Defence Minister Mariusz Blaszczak said Poland wanted to transfer MiG-29s to Ukraine "as part of a broader coalition of states".
Asked who else was in the coalition, he said it was Slovakia but "of course we are open to other participants. We definitely want our activities to be carried out in the framework of a coalition".
The MiGs transferred to Ukraine will be replaced by South Korean FA-50s and US F-35s.
Last year, Poland's neighbour Slovakia said it was ready to discuss sending MiG-29s to help replace losses to Ukraine's current stockpile, but did not make a decision.