Two Americans found dead after violent Mexico kidnapping
Comments
By Euronews with AP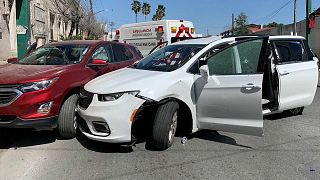 Two of the four Americans kidnapped by a Mexican drug cartel last week have been found dead. The two survivors are now back on US territory, one with serious but not life-threatening injuries. 
The four were found in a wooden shack in a rural area near Matamoros, the Mexican border town where the events unfolded. They were being guarded by a man who was arrested. 
The citizens had travelled to Mexico seeking cosmetic surgery. It's believed they were mistaken for drug smugglers. 
The shootings illustrate the terror that has prevailed for years in Matamoros, a city dominated by factions of the powerful Gulf drug cartel who often fight among themselves. 
Amid the violence, thousands of Mexicans have disappeared in Tamaulipas state alone.