Ukrainian troops train on Leopard 2 tanks in Poland
Comments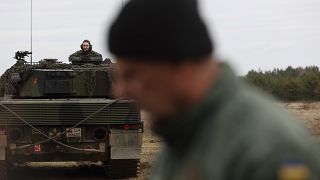 -
Copyright

Michal Dyjuk/Copyright 2023 The AP. All rights reserved
Ahead of a highly anticipated Spring offensive by Russia, Ukrainian troops have been training in Poland on Leopard 2 tanks, just weeks after Berlin gave the green light for the German-made tanks to be sent to Ukraine.
On Monday, Poland's President Andrzej Duda attended the training showcase at Swietoszow Military Base in western Poland, where Polish, Norwegian and Canadian instructors have been working with Ukrainian soldiers.
President Duda praised the troops who have been battling the Russian invasion since 24th February 2022, almost a year ago.
He said, "these are very experienced tank drivers, who arrived here straight from the front" in Ukraine."
According to Polish instructor Krzysztof Sieradzki, training normally lasts two months, but given the imminence of Russia's fresh assault, the 105 Ukrainian troops will be completing the course in just one month.
Russia is likely to try to secure territory it illegally annexed in late September, where it claims Kremlin rule is welcomed due to 'referenda', such as Donetsk.
They claim to have taken the village of Krasna Hora near Bakhmut, in the Donetsk Oblast, using 'volunteer assault units', a rare admission from Russia's army that fighters from the Wagner paramilitary group were involved. 
President Zelenskyy continued his 'diplomatic marathon' on Monday, speaking with the presidents of Norway, the Republic of Cyprus, and the Philippines in an attempt to bolster international support. 
In his nightly address he said: "Now, more than ever, it feels like Ukraine's European goals are becoming a reality. Finally, there are more real achievements than political declarations. For decades, Ukraine and the European Union have been moving towards this."
Zelenskyy praised the work of soldiers defending the Luhansk region and the Donetsk region, adding "Let's remember: every new result achieved for Ukraine means a shorter time to victory."