"A war within a war": The battle of Bakhmut rages on
Comments
By Euronews with AFP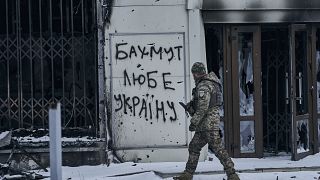 -
Copyright

Libkos/Copyright 2023 The AP. All rights reserved.
Rescuers continued to evacuate sick and injured civilians from Avdiivka in Ukraine's Donetsk region, despite ongoing shelling near the city by the Russian troops.
This weekend, Russia ramped up its shelling campaign in the east of Ukraine, as part of a concerted effort to seize more land, however, Ukrainian officials say that Moscow is having trouble launching its much-anticipated large-scale offensive there.
A spokesman for Russia's ministry of defence said on Sunday that the southern grouping of the Russian Armed Forces in the Donetsk area eliminated more than 250 Ukrainian soldiers, and 12 pieces of equipment, as well as an artillery depot in a day.
The Kremlin claims that since the beginning of the war, Russia has destroyed 324 planes, 207 helicopters, 7,840 tanks and 404 air defence missile systems in Ukraine among other military equipment. 
Push for new Russia sanctions
In his nightly address, Ukrainian President Zelenskyy applauded efforts by Ukraine's energy workers for trying to keep the country warm in the face of more strikes on the country's infrastructure.
He said that he would push for sanctions against Russia's nuclear industry to be part of the global package of sanctions, a task he admitted would not be easy, but "there was a time when other sanctions against Russia seemed difficult to implement as well... Now they are already in place."
This comes after a week of foreign visits for President Zelenskyy, part of what he described to be a "diplomatic marathon" aimed at isolating Russia from the "global system". 
Intense fighting around Bakhmut
Fighting remains intense around Bakhmut in the east of Ukraine, where wave after wave of mercenaries from Russia's notorious Wagner group have been sent into battle, as part of what has been called a "war within a war". 
If Ukraine were to withdraw their forces from the strategically important town, which Russia has been trying to capture for more than six months, it would pave the way for Russia to push towards bigger eastern cities like Kramatorsk and Slovyansk.
On Sunday, the head of the Wagner group, Yevgeny Prigozhin, said that his troops had taken the town of Krasna Hora, a few kilometres north of Bakhmut. 
One person was reported dead and one injured on Sunday morning by the shelling of Nikopol, in Dnipropetrovsk, according to regional Governor, Serhii Lysak. He added that the assault damaged four residential buildings, a school and a water treatment facility. 
In Kharkiv, Ukraine's second-largest city, one person was wounded after three Russian S-300 missiles hit infrastructure facilities overnight, regional Gov. Oleh Syniehubov said. The Russian military said they hit armoured vehicle assembly workshops at the Malyshev machinery plant in the city.
President Zelenskyy warned of more attacks in the coming days, but pleaded with Ukrainians to stay united in the face of Russia's aggression: "Today and yesterday are yet more proof that by working together and helping each other, Ukrainians are doing great things."