Erdogan: 'Words not enough' to describe earthquake pain
Comments
By Euronews with AFP, AP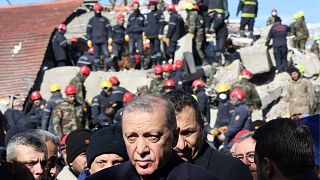 Five days after Turkey and Syria were rocked by a catastrophic earthquake, both presidents visited areas left devastated by its impact. 
Turkish President Recep Tayyip Erdogan visited an aid hub in the town of Adiyaman, a place badly hit by the 7.8 quake early Monday morning. Meanwhile, his Syrian counterpart Bashar al-Assad visited Aleppo, Syria's second biggest city.
The 7.8 magnitude tremor hit the border region between Turkey and Syria, an area home to more than 13.5 million people. Around 23,000 people have so far died due to the natural disaster. 
Erdogan in Adiyaman
The Turkish government has distributed millions of hot meals, as well as tents and blankets, but was still struggling to reach many people in need.
Speaking to the press, Erdogan said that "words are not enough" in describing the pain felt throughout the country. 
Although aware of the scale of the task ahead, the Turkish president said search-and-rescue efforts would continue until no one is left trapped beneath the rubble of the thousands of destroyed buildings.
He promises to rebuild the area within the year and also said the government would subsidise rents for one year for people unwilling to stay in tents.
Erdogan, who faces tough elections in May, has acknowledged a slow government response in the initial stages of the quake.