EU summit: Italy's Giorgia Meloni pushes for stricter migration laws
Comments
By Giorgia Orlandi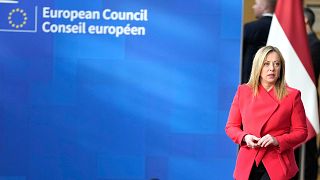 -
Copyright

Virginia Mayo / AP
Italian Prime Minister Giorgia Meloni has what could be called a straightforward communication style, even more so when it comes to addressing one of her political programmes' key issues - such as migration.
Her message was delivered to the EU Council President's last visit to Rome. "Italy," she said "cannot cope with the matter alone".
The 27 EU-member summit will discuss the issue and Meloni has already highlighted that the EU "must intervene on the defence of the external borders".
During a first round of bilateral international meetings, Meloni's approach was welcomed by both the German chancellor and Swedish prime minister.
"When it comes to migration, Europe is eventually moving in the same direction as Brothers of Italy and Meloni's government," Sara Kelany, a Brothers of Italy MP said.
'Improved cooperation' with countries of origin
"That involves strengthening external border controls while pushing for improved cooperation with countries of origin. Finally thanks to this government the migration issue has become a common problem in Europe. We have all realised that defending Italy's borders is equal to defending Europe's borders"
Italy's main proposal is to push for an EU-wide code of conduct for rescue ships in the Mediterranean. The Italian government also wants to encourage member states to invest more money in Africa. 
But the most divisive issue remains introducing mandatory relocations. A request that remains unpopular among some of Meloni's closest European allies.
"This is what Italy should have done throughout all these years," says Kelany. "Now we are finally approaching the matter as other European countries have already done."
After her first 100 days in office, Meloni's line in Europe has not changed. Protecting national interests is the priority of her political programme. Much of her success though will depend on how she deals with the migration issue, given that many of her supporters backed her hard line on that.
Watch the video in player above.