Belgrade could become a 'pariah' over Kosovo, Serbia's President warns
Comments
By Euronews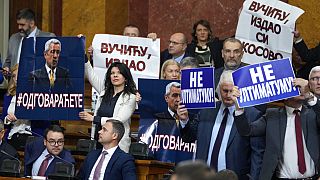 -
Copyright

Darko Vojinovic/Copyright 2023 The AP. All rights reserved
Kosovo has signalled that it's willing to create an association of five Serb-majority municipalities in the north of the country, in order to unblock talks with Belgrade.
Critics say it could give Serbia a permanent hand in Kosovo's politics, but it's a key part of a 2013 Western-backed deal to eventually normalise relations between the two countries.
While a majority of EU member states recognise Kosovo as a sovereign nation, Serbia refuses to do so, still officially maintaining that it is a part of their territory.
Serbia's President, Aleksander Vucic, has urged lawmakers in Belgrade to accept the diplomatic moves, warning the nation would face serious consequences if they don't.
"Would we become a European pariah? Yes, we would. Completely isolated, no one would talk to us. We would not have access to any funds, you can not function in the modern world alone."
However, Serbian nationalists consider any move towards recognising Kosovo's independence unacceptable and made their anger known to Vucic in parliament.
Several dozen people also demonstrated in Belgrade against any political understanding being struck with Pristina.