Constant shelling forces Bakhmut residents underground as Russia bombards eastern Ukraine
Comments
By Euronews with EBU, ANSA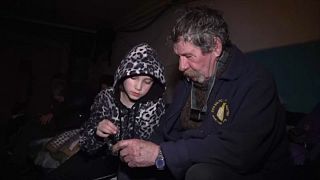 The sound of bombing haunts the skies of the city of Bakhmut in eastern Ukraine and those below.
Russia claimed Tuesday it was nearing in on Bakhmut with the capturing of Blagodatne, a village just north of the town.
Locals are forced underground. In one cellar six children and about 20 adults try to occupy themselves and perhaps even get some sleep.
One little girl has been living in the shelter for six months with her grandparents. Her mother had to stay in a town taken by the Russians.
"When we lived in this other town, we had a bombing right across the street from our house, I was so scared and it's still with me. When we came here I saw that it was worse but I convinced myself that I could survive. I try to forget the bombing," says the little girl. 
During the daytime, locals still have to leave their shelters for food and other necessities. With the threat of bombing always imminent, a quick trip to the local food bank risks getting caught up in the shelling.
FOUR DEAD, SIX INJURED
Four people were killed and six others were injured during on Tuesday Russian attacks in the Donetsk region of eastern Ukraine. This was announced on Telegram by the head of the regional military administration Region, Pavlo Kyrylenko. 
"The Russians killed four residents of the Donetsk region on 31 January: two in Bakhmut, one in Paraskoviivka and one in Vuhledar. Six other people were injured," wrote Kyrylenko.
Watch the video in the player above.