Drone attack on Iran's Isfahan military plant 'unsuccessful': Defence ministry
Comments
By Euronews with AP and Reuters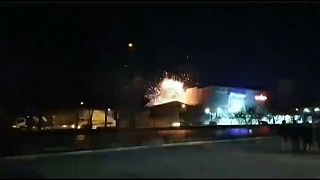 A large explosion caused by an "unsuccessful" drone attack on a defence factory rocked the Iranian city of Isfahan late on Saturday night.
"One of [the drones] was hit by the...air defence and the other two were caught in defence traps and blew up," Iran's defence ministry said in a statement.
"Fortunately, this unsuccessful attack did not cause any loss of life and caused minor damage to the workshop's roof."
The Iranian defence ministry offered no information on who it suspected was behind the attack that caused no casualties and only minor damage to the defence factory's roof.
The strike comes as Iran's state TV reported that a fire broke out at an oil refinery in an industrial zone near the northwestern city of Tabriz.
It said the cause was still unknown, as it showed footage of firefighters trying to extinguish the blaze.
It is unclear if there are any links between the two incidents.
There have been multiple explosions and fires around Iranian military, nuclear and industrial facilities in recent years.
Iran has accused Israel of launching a series of attacks on the country, including an April 2021 assault on its underground Natanz nuclear facility that damaged its centrifuges.
In 2020, Iran blamed Israel for a sophisticated attack that killed its top military nuclear scientist.
Israeli officials rarely acknowledge operations by the country's secret military units or its Mossad intelligence agency. However, at his swearing-in ceremony in December, Israeli Prime Minister Benjamin Netanyahu said stopping Iran's nuclear programme was one of his top priorities. 
Watch Euronews' report in the video player above or read this article to learn more.