Bundestag remembers victims targeted by the Nazis for their sexuality
Comments
By Euronews with AP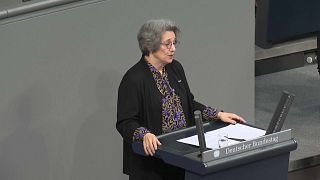 German politicians marked International Holocaust Remembrance Day at the Bundestag on Friday, on the 78th anniversary of the liberation of the Auschwitz-Birkenau concentration and extermination camp.
The former camp is located in the town of Oswiecim in southern Poland, which was under the occupation of German forces during World War II and became a place of systematic murder of Jews, Roma, members of the LGBTI+ community, communists and anti-fascists, and others targeted for elimination by Adolf Hitler and his henchmen.
In all, some 1.1 million people were killed at the vast complex before it was liberated by Soviet troops on 27 January 1945.
In the Bundestag, this year's memorial event focused on those persecuted by the Nazis for their sexual orientation. 
Thousands of gay, lesbian, bisexual, and transsexual people were incarcerated and killed by the Nazis. Their fate was only publicly recognised decades after the end of WWII.
"What I had to learn as a small child, many members of sexual and gender minorities had to learn before and unfortunately also after 1945," Holocaust survivor Rozette Kats said, addressing the Bundestag.
"Because it makes people sick when they have to hide and deny themselves."
For more, watch Euronews' report in the video above.