Homosexuality 'is not a crime': Pope Francis talks discrimination, death and guns
Comments
By Euronews with AP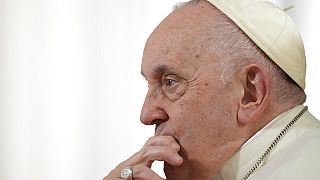 Copyright

Andrew Medichini/Copyright 2023 The AP. All rights reserved

-
Pope Francis has discussed gun violence, discrimination and death in a new interview.
Speaking to the Associated Press news agency, the Pontiff upped his criticism of unjust treatment towards the LGBT+ community, though maintained homosexuality was still sinful. 
"Being homosexual is not a crime. It's not a crime. Yes, it's a sin," said Francis. "but let's make the distinction first between sin and crime."
The Catholic Church remains opposed to same-sex relationships on moral grounds, despite their increasing social and legal acceptance in many parts of the world. 
In 2021, Francis signed off on a message saying that the Church could not accept same-sex marriages, no matter how stable or positive the couple's relationship was.  
The Pontiff, a frequent critic of the arms industry, also railed against the use of guns by civilians to defend themselves, saying it was becoming a "habit".
"Instead of making the effort to help us live, we make the effort to help us kill," he said, denouncing the weapons industry for peddling death. 
"Please, let's say something that will stop this." 
Francis's comments come days after near back-to-back mass shootings in California, which claimed scores of lives and wounded many others.
Figures from the Gun Violence Archive -- a non-profit research database -- reveal that the number of mass shootings has gone up significantly in the US in recent years.
There are more than 120 firearms per 100 residents in the US, more than anywhere else in the world. In England and Wales for comparison, there are just under 5 guns for every 100 people. 
Reporters at AP then asked the 86-year-old Pope about his own health. 
"I'm in good health. For my age, I'm normal. I might die tomorrow, but I am under control. I always ask for the grace the Lord will give me a sense of humour," he said.
His predecessor, Pope Benedict XVI, died in December, after becoming the first pontiff in 600 years to resign a decade before. 
This created an extraordinary situation in which there was effectively two popes, breaking with protocol as one usually passes power to the other in their death. 
Francis was asked about the need for rules for any future retirement, following Benedict's death. 
"After some more experience ... then it could be more regularised or regulated," he said. "But for the moment it hasn't occurred to me."