Fact check: A Ukrainian soldier did not pose next to a Russian fighter's corpse
Comments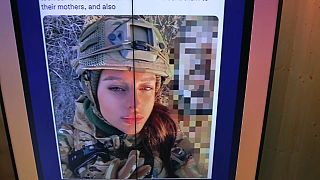 As Russia's invasion of Ukraine hits the 11-month mark, Euronews continues to debunk the disinformation war that is happening online.
Many social media users have shared a photo on Twitter claiming that a Ukrainian soldier can be seen posing next to a dead Russian fighter's body. 
It has been shared in multiple languages, including Spanish and Italian.
These posts claim that the woman in the photo's name is "Lilia Yevtushenko", purportedly a "Ukrainian soldier who had been captured by the Russian army".
Twitter users claimed she took pictures next to dead Moscow troops so they could be sent to the mothers of Russian soldiers as a warning.
Using tools such as the reverse image search, Euronews found the original photo in this article, published by the Ukrainian news outlet Gazeta.
The article states her real name is not "Lilia Yevtushenko" but rather Oleksandra Samsonova, a 23-year-old sniper of the Armed Forces of Ukraine.
In addition, Ukraine's **Elle magazine**franchise wrote a profile of Samsonova back in July 2022. 
The profile had even Ukrainian officials -- such as advisor to the Minister of Internal Affairs of Ukraine Anton Geraschenko -- retweeting the article, confirming Oleksandra's identity.
Euronews also found Samsonova's personal Instagram profile and the original photo that has been doctored.
Samsonova is not pictured next to a corpse, and the photo was taken back in March 2021 -- 11 months before Russia's invasion of Ukraine.
Moreover, her last post -- published on 21 January, where she is asking for donations to the Ukrainian defenders in Bakhmut -- does not add up to the claims that she has been captured by the Russian army. 
Underneath the photo featuring two Ukrainian soldiers whose faces were blurred, Samsonova answered a comment from a worried follower by saying, "Don't believe the Russian propaganda, I'm alive."