Ukraine pleads with its allies to send advanced tanks
Comments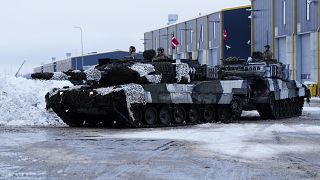 Copyright

AP Photo/Pavel Golovkin

-
Ukrainian President Volodymyr Zelenskyy is pleading with his Western allies - in particular Germany - to send advanced tanks that would help punch through Russian lines. 
Defence leaders from nearly 50 countries discussed that possibility at a meeting in Germany on Friday, but no decision was made, according to Poland's defence minister.
Germany has become one of Ukraine's leading weapons suppliers in the 11 months since Russia's invasion, but Chancellor Olaf Scholz also has gained a reputation for hesitating to take each new step — generating impatience among allies.
Berlin's perceived foot-dragging, most recently on the Leopard 2 battle tanks that Kyiv wants, is rooted at least partly in a post-World War II political culture of military caution, along with present-day worries about a possible escalation in the war.
On Friday, Germany inched closer to a decision to deliver the tanks, ordering a review of its Leopard stocks in preparation for a possible green light.
There was still no commitment, however. Defence Minister Boris Pistorius rejected the suggestion that Germany was standing in the way but said, "we have to balance all the pros and contras before we decide things like that, just like that."
It's a pattern that has been repeated over the months as Scholz first held off pledging new, heavier equipment, then eventually agreed to do so.
Most recently, Germany said in early January that it would send 40 Marder armoured personnel carriers to Ukraine — doing so in a joint announcement with the U.S., which pledged 50 Bradley armoured vehicles.
That decision followed months of calls for Berlin to send the Marder and stoked pressure for it to move up another step to the Leopard tank.
Marina Miron, of the Defense Studies Department at King's College London, said tanks are useful, but a number of factors need to be taken into account, including how many will be sent and when, what condition they are in, and how Ukrainian crews will be trained and keep the vehicles supplied.
Giving the tanks would be "more of a political gesture" than something that will change the complexion of the war, Miron told the AP.
Ukraine needs at least 300 tanks to keep Russia from advancing in the Donbas and Zaporizhzhia provinces, as well as for a possible counteroffensive in the country's southeast, analysts say. Such a number looks unlikely, for now.
"The war of resources has begun," Ukrainian military analyst Oleh Zhdanov told the AP. "It is becoming apparent that Ukraine's successes in the war with Russia will depend directly on the willingness and readiness of Western countries to supply not only defensive weapons to Kyiv, but also powerful offensive weapons, including modern tanks and planes."