Rotten apples dumped outside London police HQ as sex crime investigation escalates
Comments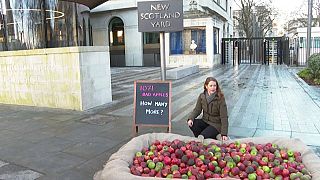 A UK domestic abuse charity has dumped more than 1000 rotten apples outside London's Metropolitan Police headquarters, as the force reels from the exposure this week of a serial rapist in its ranks.
"We as Refuge are here today with 1,071 bad apples," charity CEO Ruth Davison said on Friday.
"We're here because this represents the number of officers that the Met Police have told us are currently or have been under investigation for domestic abuse or other forms of sexual violence against women."
"We've been told time and time again that it's one bad apple here and there. This is actually a fundamental problem right across policing, not just in the Met, but nationally," added Davison.
Britain's biggest police service has faced savage criticism after former officer David Carrick earlier this week pleaded guilty to 24 counts of rape against 12 women and a string of other sex offences over two decades.
The Met had failed to act on prior allegations levelled against Carrick, who served in an armed unit protecting MPs and foreign diplomats.
The public trust had already suffered from the conviction of Wayne Couzens, who served in the same Met unit as Carrick, for killing Sarah Everard as she walked home in south London in March 2021.
British opposition leader Keir Starmer has demanded radical reform of the Met, including possibly changing its name.
"It needs a root-and-branch review, cultural change because this is not just the perpetrators," he said.
"It's those that have allowed this to happen, move them around, not taken action when they should have done."
For more watch Euronews' report in the video above.