Brazil's president cracks down after riot and vows to protect democracy
Comments
By Euronews with AP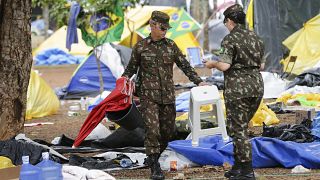 -
Copyright

Gustavo Moreno/Copyright 2023 The AP. All rights reserved
Brazilian authorities have vowed to protect democracy and punish thousands of supporters of ex-President Jair Bolsonaro who stormed and trashed the nation's highest seats of power, in a riot with striking similarities to the 6 January insurrection at the US Capitol.
In an unprecedented display for Latin America's largest nation, protesters swarmed into Congress, the Supreme Court and the presidential palace on Sunday. Many said they wanted the Brazilian army to restore the far-right Bolsonaro to power and oust the newly-inaugurated leftist president Luiz Inácio Lula da Silva.
Police dismantled a pro-Bolsonaro encampment outside a military building on Monday and detained some 1,500 people there, the justice ministry's press office told The Associated Press.
Lula and the heads of the Supreme Court, Senate and Lower House also signed a letter on Monday that denounced the attack and said they are taking legal measures.
Justice Minister Flávio Dino told reporters that police have begun tracking those who paid for the buses that transported protesters to the capital. 
"We think that the worst is over," he said, adding that the government is now focused on punishing lawbreakers and those who enabled them. 
"We cannot and will not compromise in fulfilling our legal duties, because this is essential so such events do not repeat themselves."
For more watch Euronews' report in the video above.