French food giant Danone faces legal action over its use of plastic
Comments
By Euronews with AFP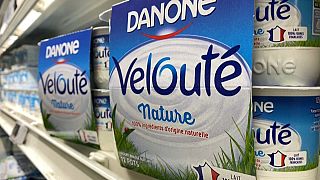 French food giant Danone is facing legal action from NGOs trying to force it to reduce its use of plastics.
Campaigners have asked a judge to force the company to introduce what they call a 'deplastification strategy', accusing it of not doing enough to address the problem of the vast volumes of harmful waste it creates.
They say that under French law, Danone has a duty of care that it's not respecting.
Sebastien Mabile, lawyer and partner at Seattle Avocats, specialising in corporate accountability law explained: 
"Danone is totally silent on the risks that the use of its plastic poses to the environment and to human health, which are nevertheless considerable, extremely serious, highly probable and of a global dimension, with pollution that is irreversible, since plastic cannot be removed from the environment."
Danone claims it's recognised as a pioneer in the management of environmental risks and says it plans to make its packaging recyclable, reusable, or compostable by 2025.
The conglomerate also says it's committed to research into alternative materials.