Finland's "progressive punishment" when it comes to speeding tickets
Comments
By Euronews with News wires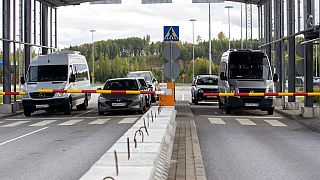 Copyright

Lauri Heino/Lehtikuva

-
Did you know getting a speeding ticket in Finland can either be very expensive or very cheap? 
There's no longer a fixed price. Instead, the country runs a day-fine system that is calculated on the basis of an offender's disposable income. Generally, it's their daily salary divided by two.
The more a driver is over the speed limit, the greater the number of day fines they will receive.
"The amount depends on your monthly income," one unnamed police officer said. 
"If you are in a good job, you have a quite high income, the ticket is higher," another said. 
"The minimum is six euros per day fine so it is always at least that, but it can go all the way to tens of thousands."
Income-based fines could help reduce the burden of criminal justice debt on the poor and more vulnerable.
The system has led to some attention-grabbing headlines. Finland isn't the only country to apply so-called "progressive punishment" to speeding fines.
Switzerland uses a similar system. One motorist in 2010 was fined 3,600 Swiss francs per day for 300 days -- that's more than a million euros in total. 
For more watch Euronews' report in the video above.