Netanyahu and far-right allies tipped to win Israeli election — partial results
Comments
By Euronews with AFP, AP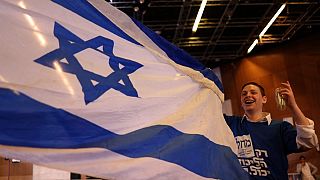 -
Copyright

RONALDO SCHEMIDT/AFP or licensors
Former Israeli Prime Minister Benjamin Netanyahu looked to be heading for victory on Wednesday in the country's latest national elections thanks to support from the far-right, with about 97% of the votes counted.
Final results could still alter the outcome, but preliminary indications are that Netanyahu's Likud party and his far-right allies are on course to obtain a parliamentary majority — breaking the deadlock in Israel's long political crisis in the process.
A win would seal a dramatic comeback for Israel's longest-serving prime minister and confirm an ongoing shift to the right in the country's electorate, but would likely dampen any hopes for peace with the Palestinians and set the stage for a possible conflict with the Biden administration.
According to the partial results, Netanyahu's Likud had won 32 seats, ahead of the centrist Yesh Atid of outgoing Prime Minister Yair Lapid, which won 24 seats in the 120-seat parliament.
Netanyahu's far-right allies, Bezalel Smotrich and Itamar Ben Gvir, are third with 14 seats, double the number they had before.
The centre-right party of former army chief Benny Gantz, a member of the outgoing coalition, follow with 12 seats.
With its allies, Netanyahu's bloc would have 65 seats, four more than the number needed for a majority.
"We are on the verge of a very big victory," Netanyahu, 73, told supporters at a gathering in Jerusalem early on Wednesday. "I will establish a nationalist government that will see to all Israeli citizens without any exceptions."
Success for Netanyahu and the right comes thanks to a strong showing from the ultranationalist Religious Zionism party, whose members use racist and inflammatory anti-Arab and anti-LGBTQ rhetoric.
However, the outcome could change when the official results are announced. Much depends on the seats won by the smaller parties.
A total of nine parties are running in the vote and final results are expected on Friday. 
In Israel's proportional voting system, electoral hopefuls must obtain at least 3.25% of the votes to enter Parliament with a minimum of four seats.
This is a particularly critical condition for the parties of Israel's Arab minority.
In 2020, Arab parties, hostile to Netanyahu's right-wing bloc, won a record 15 seats after a vigorous campaign under one banner. 
But this time, they stood separately under three lists: Raam, Hadash-Taal (secular) and Balad (nationalist).
Should they pass the 3.25% threshold, this would remove seats from Netanyahu's bloc, jeopardising its chances of forming a government.
Tuesday's election was Israel's fifth in less than four years, with all of them focused largely on Netanyahu's fitness to govern.
His opponents vilify him as a crook and a threat to democracy, unfit to govern while on trial on a slew of corruption charges. They have refused to sit with him in government. 
But Netanyahu's partners see him as the victim of a witch hunt and have promised to help him evade a conviction. He denies wrongdoing.