Ukraine war: Russia blames Kyiv for car bomb attack, Zaporizhzhia injuries, and Zelenskyy warning
Comments
By Euronews with Reuters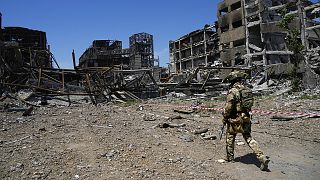 -
1. FSB says Ukraine killed Dugin's daughter
Russia's security service the FSB has accused Ukraine's secret services of killing Daria Dugina, the daughter of Russian ultranationalist Aleksandr Dugin. She died in a suspected car bombing near Moscow on Sunday.
The FSB named a Ukrainian woman in her forties as having been behind the attack, saying she had since escaped to Estonia.
It said the woman and her teenage daughter had arrived in Russia in July and spent a month preparing for the attack by renting an apartment in the same housing block and researching Dugina's lifestyle, according to an FSB statement carried by Russian news agencies.
The assailant had attended an event outside Moscow on Saturday evening, which Dugina and her father were also at, before carrying out a "controlled explosion" of Dugina's car and fleeing Russia to Estonia, the FSB was quoted as saying.
There was no immediate response from Kyiv to the FSB statement. Earlier, the Ukrainian government denied involvement in the attack. 
"Ukraine, of course, had nothing to do with this because we are not a criminal state, like the Russian Federation, and moreover we are not a terrorist state," Mykhaylo Podolyak said on Ukrainian TV.
2. Casualties near Zaporizhzhia blamed on Russian shelling
Four people were injured in overnight Russian shelling from Sunday into Monday near Europe's biggest nuclear plant at Zaporizhzhia, Ukrainian authorities said on Monday.
Artillery shells rained down on Nikopol, a city near the nuclear facility, while missiles struck near the Black Sea port of Odesa over the weekend.
The fighting near Zaporizhzhia and a missile strike on the southern town of Voznesensk, not far from Ukraine's second-largest atomic plant, have spurred fears of a nuclear accident.
On Sunday, US President Joe Biden, UK Prime Minister Boris Johnson, German Chancellor Olaf Scholz and Macron held a phone call stressing the importance of ensuring the safety of nuclear installations while underlining their "steadfast commitment" to Ukraine. 
Ukrainian officials reported more Russian strikes on targets in the east and south of the country on Monday.
In the eastern Bakhmut region, Russian forces inflicted damage from artillery, and multiple rocket launcher systems in the areas of Soledar, Zaytseve and Bilogorivka settlements, Ukraine's General Staff said in its daily update.
They continued to focus their efforts on establishing full control over the territories of the Luhansk and Donetsk regions, maintaining the captured areas of Kherson and parts of Kharkiv, Zaporizhzhia, and Mykolaiv regions, the General Staff added.
3. Zelenskyy warns against 'disgusting show trial'
In his nightly address on Sunday, Ukrainian President Volodymyr Zelenskyy warned that in Mariupol Russia was preparing the ground for "an absolutely disgusting and absurd show trial".
"This will be the line beyond which any negotiations are impossible," Zelenskyy said, accusing Moscow of violating international rules.
The president believes a trial is being prepared to coincide with Ukraine's Independence Day on Wednesday, which also marks six months since the Russian invasion. At the weekend, he called for vigilance, saying Moscow could try "something particularly violent".
In May, the Ukrainian Azov Regiment entrenched in the Azovstal steel plant in Mariupol was ordered by Kyiv to surrender to Russian forces. 
The Ukrainian authorities said this was the only way to save the lives of Mariupol defenders who spent months besieged in the plant under constant shelling, with no access to basic supplies. 
Zelenskyy said at the weekend that he had discussed "all the threats" with French President Emmanuel Macron, and word had also been sent to other leaders, including Turkish President Tayyip Erdogan and UN Secretary-General Antonio Guterres.
"All of Ukraine's partners have been informed about what the terrorist state (Russia) can prepare for this week," the president said.
Turkey's Erdogan has reportedly dismissed speculation about potential talks between Zelenskyy and Vladimir Putin. After speaking to his Russian counterpart, Macron said Russia accused Russia of having launched a "brutal attack" on Ukraine in an imperialist, revanchist violation of international law.
4. Latvia to topple Soviet-era monument a week after its neighbour Estonia
Latvia will tear down a Soviet-era monument on Tuesday that commemorates the Red Army's victory over Nazi Germany, authorities said, coming a week after Estonia removed a similar landmark.
Police have erected a yellow fence to cordon off the area near the monument, which stands like a high-rise in downtown Riga's Victory Park. It has an 80-metre concrete spire with a Soviet star on top, with two groups of statues beside the edge of a pond.
The monument, built in 1985 while Latvia was still part of the Soviet Union, will be felled using machinery on Tuesday, said Janis Lange, the Latvian capital's executive director. He told a news conference that it will be toppled without the use of explosives, according to Latvian television.
It wasn't immediately clear what would happen to the monument after it was taken down.
The concrete obelisk is part of a complex that includes two groups of statues — a band of three Red Army soldiers, and on the other side, a woman representing the "Motherland" with her arms held high. The whole complex will be taken down.
Latvia, which shares a 214-kilometre border with Russia, has a large group of ethnic Russians living in the country. On Russia's annual Victory Day holiday on 9 May, they gather in front of the monument to lay flowers with concerts also organised.
The event has caused controversy among people in Latvia, which since regaining independence in 1991 has become a member of NATO and the European Union.
Over the weekend, the Latvian Russian Union said it plans to stage a protest on Monday evening. The group says it has gathered more than 10,000 signatures of people who are against removing the monument, the Baltic News Service said.
But Lange told a news conference Monday that the Riga City Council said it wouldn't issue a permit for them to hold a protest.
In May, Latvia's parliament voted to pave the way for the demolition of the monument in the capital, and the Riga City Council followed suit.
The Baltic countries have removed many monuments glorifying the Soviet Union or communist leaders.
In 2007, the relocation of a World War II monument of a Red Army soldier in Estonia's capital, Tallinn, sparked days of rioting. Last week, Estonia removed a Soviet-era monument with a tank on top outside the town of Narva in the Baltic country's Russian-speaking east and moved the tank replica to a war museum north of Tallinn.
Latvia, Estonia and Lithuania have taken a hard-line stance against Russia's invasion of Ukraine.
5. Ukraine lost nearly 9,000 service people since Russia's full-scale invasion in February
Nearly 9,000 Ukrainian military personnel have been killed in the war with Russia, the head of Ukraine's armed forces said on Monday.
The toll given by General Valeriy Zaluzhnyi appeared to be the first provided by Ukraine's military top brass since Russia's invasion on 24 February.
Zaluzhnyi, the Commander-in-Chief of Ukraine's armed forces, told a conference held to honour military veterans and the families of those killed that children needed protection in several parts of the country, including the capital Kyiv.
"They really do not understand anything that is going on and definitely need protection ... because their father has gone to the front and possibly is among the almost 9,000 heroes who have been killed," he said.
Zaluzhnyi provided no details and did not say whether the figure he cited included all service personnel killed in action, such as border guards. 
President Volodymyr Zelenskyy told the conference that about 1 million people were defending Ukraine as part of Ukraine's armed forces or other services.
Zaluzhnyi did not say how many civilians had been killed or how many Russian personnel Kyiv estimated had been killed in the fighting, but the General Staff of Ukraine's armed forces has put the Russian military death toll at 45,400. 
Moscow has refused to confirm this number and has remained unclear about its casualties.