Ukraine war: Russian offensive in the east 'has begun', Zelenskyy says
Comments
By Euronews with AP, AFP, Reuters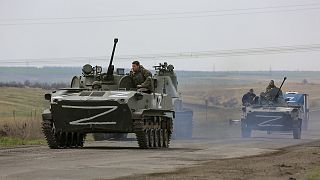 Copyright

AP Photo/Alexei Alexandrov

-
Russian forces have begun a new big offensive in the east of Ukraine after their retreat from the capital region and other parts of the country.
It comes as Kyiv continues to call for tighter Western nations against Moscow and more weapons to repel Putin's forces.
Read more about Monday's events as they unfolded in our blog below.
04.17.2022
21:52
Monday's key points:
The Russian offensive on eastern Ukraine has begun on Monday night, Ukrainian President Volodymyr Zelenskyy announced in a video address.

Multiple missiles have struck the western Ukrainian city of Lviv, killing seven and wounding 11, says the city's governor.

Reports on Monday afternoon claimed that Russia has been conducting heavy bombing runs on the Azovstal factory where most of the remaining Ukrainian forces in Mariupol have been situated, along with hundreds of civilians seeking shelter.

Mariupol has been effectively wiped off the map, says Ukraine's Foreign Minister Dmytro Kuleba. 

Evacuations of civilians trapped in combat areas have been postponed for the second day running. 

Several casualties

have been reported in a new rocket attack on Kharkiv in northeastern Ukraine.

Zelenskyy has submitted Ukraine's answers to the European Commission's questionnaire -- a necessary step towards being given candidate country status by Brussels.

Russia's defence ministry said on Sunday that it had bombed a military factory at Brovary on the outskirts of Kyiv, as Moscow intensified its attacks on the Ukrainian capital.

4.9 million Ukrainians have now fled the country, says the UN.
04.18.2022
23:18
This is the end of our live blog for today. Euronews is signing off.
04.18.2022
22:14
Zelenskyy: Russian offensive in the east has begun
Ukrainian President Volodymyr Zelenskyy announced the start of a Russian offensive against eastern Ukraine, part of which is in the hands of pro-Russian separatists and where deadly fighting has intensified.
The statement came amid reports of heavy shelling in the areas of Kharkiv and Mykolaiv, and along the Ukrainian positions in Luhansk and Donetsk.
"We can now say that Russian troops have begun the battle for the Donbas, for which they have been preparing for a long time," Zelenskyy said in a speech published on Telegram. 
"A very large part of the entire Russian army is now dedicated to this offensive."
"No matter how many Russian troops are driven there, we will fight. We will defend ourselves. We will do it every day," he stated.
04.18.2022
22:02
Presidential advisor: Ukraine 'ready to exchange' Medvedchuk for Mariupol survivors, soldiers
Ukrainian government would be prepared to exchange Viktor Medvedchuk for all defenders and residents of Mariupol, Ukrainian presidential advisor Mykhailo Podolyak said.
However, Podolyak expressed his doubts that the Kremlin would settle for that, he stated on a national news channel, claiming that Russia is more interested in destroying Mariupol instead.
"It is a matter of principle for them to destroy the symbol of the country's invincibility," he said.
Medvedchuk, the leader of the pro-Russian Opposition Platform party, is widely considered to be a close ally of Vladimir Putin.
Earlier on Monday, Medvedchuk addressed both Putin and Ukrainian President Volodymyr Zelenskyy, proposing to have himself exchanged for the remaining Ukrainian troops and civilians in the besieged southern port city of Mariupol.
The Ukrainian security service arrested Medvedchuk on 12 April as he attempted to flee the country. A photo published by Zelenskyy showed Medvedchuk in handcuffs, wearing a Ukrainian army uniform.
04.18.2022
20:42
Azovstal factory under 'heavy bombardment', Mariupol authorities claim
The Russian forces have conducted heavy bomb sorties on the Azovstal iron and steelworks factory, Mariupol city council stated.
Footage shared on Telegram on Mondayshows a large cloud of smoke billowing from what is purported to be the northern section of the large complex said to be housing the remaining Ukrainian forces, as well as up to 1,000 civilians who sought shelter there.
There were no reports of casualties or damage at this time.
04.18.2022
20:33
Ukraine rejects Serbian president's claims of bomb threats against national air company
Ukraine rejected as baseless and false the accusations made by Serbia's president that Ukraine's secret service is behind a series of hoax bomb threats against Air Serbia flights to Russia.
Serbian President Aleksandar Vučić has claimed that the foreign intelligence services of Ukraine and an unidentified European Union nation are responsible.
The pro-Russian Serbian leader, who has repeatedly rejected to comment on the war in Ukraine, did not provide evidence for his claim.
Other Serbian officials alleged that the threats were being sent from Ukraine or Poland. Ukraine's Foreign Ministry spokesman Oleg Nilolenko on Monday called the allegations false.
The Serbian national carrier is the only European airline -- besides Turkish air companies -- that has not joined EU flight sanctions against Russia over its invasion of Ukraine.
Read the full story below.
euronews
President Aleksandar Vučić has accused Ukrainian and other foreign intelligence services of being behind a series of hoax bomb threats on Air Serbia flights.
04.18.2022
19:33
Russia seen adding forces in eastern and southern Ukraine, US defence official claims
The Pentagon says Russia has added artillery, ground combat forces and other capabilities in recent days ahead of a new ground offensive in the Donbas region in Ukraine.
A senior US defence official said the number of combat units known as battalion tactical groups in eastern and southern Ukraine has grown to 76 from 65 last week. The official spoke on condition of anonymity.
It's difficult to know at this stage of the war, but that could add up to 50,000 to 60,000 Russian troops, depending on how developed the groups are.
The official said that if Russian forces succeed in fully controlling the southern port of Mariupol it could free up nearly a dozen battalion-sized tactical groups for use elsewhere in the Donbas region.
04.18.2022
19:06
EU condemns bombardment of civilians, demands end of hostilities
The European Union on Monday condemned Russia's indiscriminate and illegal missile strikes and shelling of civilians in Ukraine and denounced them as war crimes.
"The EU condemns the continued indiscriminate and illegal bombing of civilians and civilian infrastructure by the Russian armed forces," EU top diplomat Josep Borrell said in a statement issued in Brussels after the strikes on the western city of Lviv.
There can be no impunity for war crimes," he added, praising the Ukrainian people for their "strength, courage and resilience in the face of Russian aggression".
Five "powerful" Russian strikes hit Lviv on Monday, killing seven people and wounding eight others, according to official authorities.
Close to the Polish border, Lviv has become a "refugee city" for displaced people but also for several Western embassies.
"The attacks on Lviv and other cities in western Ukraine show that no part of the country is spared from the Kremlin's senseless onslaught," Josep Borrell said.
"Russia must immediately and unconditionally cease hostilities and withdraw all its military forces and equipment from Ukraine," he concluded.
04.18.2022
17:59
Putin honours unit blamed for Bucha atrocities
The Russian president on Monday awarded an honorary title for "heroism" to the 64th Motorised Rifle Brigade, which Ukraine has accused of being involved in human rights abuses and war crimes in Bucha near Kyiv.
The Kremlin said Vladimir Putin had signed a decree granting the brigade the "honorary title of 'Guard'" because of its men's "heroism and tenacity, determination and courage".
"The skilful and decisive actions of all [brigade] personnel during the special military operation in Ukraine are a model of military duty, courage, determination and high professionalism," Putin wrote to the servicemen.
The Kremlin did not say where these men are or have been deployed or specify their missions.
Ukraine has accused the Russian army, and the 64th Brigade in particular, of committing a massacre of civilians in Bucha, discovered after the withdrawal of Russian soldiers on 30 March.
Russia denies this and has accused the Ukrainian authorities and Western media of staging the massacre or the Ukrainian forces committing it to blame Moscow.
04.18.2022
16:40
Ukrainian officials say Russia preventing humanitarian corridors
Ukraine's deputy prime minister said Russia can be prosecuted for war crimes over its refusal to allow humanitarian corridors for civilians trapped in the city of Mariupol.
Earlier on Monday, Iryna Vereshchuk had said no evacuations were possible for the second day in a row because of Russian attacks on civilian convoys.
"Your refusal to open these humanitarian corridors will in the future be a reason to prosecute all involved for war crimes," she wrote on her Telegram and Facebook channels.
Vereshchuk called again on Russia to allow safe evacuation of civilians from Mariupol. She said the government had been negotiating passage from Mariupol and Berdyansk, among other towns, as well as from the Luhansk region. The Luhansk government said four civilians trying to flee the region were shot to death by Russian forces.
The Russians, in their turn, have accused the "neo-Nazi nationalists" in Mariupol of hampering the evacuation of civilians from the city.

(AP)