Russia Today row: EU says Moscow's expulsion of Deutsche Welle is 'unacceptable'
Comments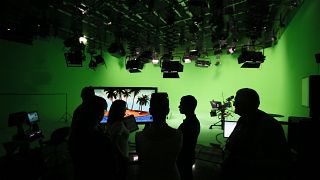 Copyright

Yuri Kochetkov/Pool photo via AP, File

-
The European Union has slammed Russia for closing the Moscow offices of the German public broadcaster Deutsche Welle (DW).
Russian authorities retaliated after a German media regulator had banned a Russia Today (RT) channel.
But an EU foreign policy spokesperson said the move by Moscow is "unacceptable and has no justification".
"This is really bad news and a bad development," said Peter Stano, referring to ongoing tensions between the West and Russia over Ukraine.
It "unfortunately illustrates once again their permanent violation of media freedom and their contempt for the independence of the media," he added.
The sanctions against DW represent the first time a major Western media outlet has been banned in post-Soviet Russian history.
Germany's government has appealed against the measures and called for a "de-escalation".
RT blocked by Germany
The row first broke out when the Russian state RT was told to stop airing its German-language channel in Germany.
The ZAK media regulator, which decides whether private organisations can broadcast nationwide in Germany, banned RT DE programmes, saying the channel lacked the necessary permission.
In a statement on Wednesday, ZAK said RT DE held "no other permit that is legitimate under European law" and had not been granted a licence.
The Russian broadcaster says it is operating under a valid Serbian licence in line with European law and stated that it will challenge the regulator's decision in court.
"This is complete nonsense," tweeted Margarita Simonian, the editor-in-chief of RT DE.
Speaking to reporters on Thursday, Kremlin spokesperson Dmitry Peskov labelled the decision as "nothing but an attack on freedom of expression".
Retaliatory measures against German media
Russia's foreign ministry also described the ban as a "political move" and on Thursday took retaliatory measures against German broadcaster Deutsche Welle.
DW's office in Russia will be closed and the accreditation of its employees will be cancelled, the ministry said in a statement.
Deutsche Welle's satellite for broadcasting in Russia would also be terminated, it added.
The German-owned channel could also be classified as a "foreign agent", which will result in additional government scrutiny and a significant decrease in the channel's advertising revenue.
Russia also said it would form a "list of representatives of state and public structures of Germany" who were involved in restricting RT and "putting pressure" on the channel. These individuals would be banned from entering Russian territory, the foreign ministry said.
German Culture Minister Claudia Roth said the retaliatory ban on DW was "in no way acceptable".
"The equation lacks any basis," Roth said in a statement, "RT DE is currently broadcasting without a licence and has not applied for a licence."
"This is a completely different situation to DW, which is now having its licence revoked," she added.
DW has had licences to broadcast in German and English since 2005, valid until 2027 and 2025 respectively, the media company stated.
"I therefore urgently appeal to the Russian side not to abuse the licensing problems of the RT channel for a political reaction," said Roth.
"Clear steps of de-escalation are needed in the mutual relationship."
Tense relations
The dispute is likely to heighten tensions between Berlin and Moscow, which are already high amid troop movements near Ukraine's border.
Germany has threatened severe sanctions if the Russian army attacks Ukraine, including a freeze on the Nord Stream II gas pipeline going through the Baltic Sea.
In September, YouTube shut two German RT channels under its COVID-19 misinformation policies, a move that drew threats of retaliation from Russia.
Last year, Luxembourg rejected an application by RT for a licence to distribute its German-language service via satellite.
Authorities in the country concluded that Luxembourg wasn't the right jurisdiction to rule on the request because RT's German service is based in Berlin and a significant part of its workforce is in Germany.
RT DE then obtained a Serbian licence for cable and satellite transmission, a move that the ZAK regulator has not recognised. The channel began broadcasting programmes on its website and via satellite in mid-December last year.
Critics consider Russia Today as the Kremlin's propaganda, and it has been classed as a "foreign agent" in the United States.
In the UK, the authorities have threatened to withdraw its broadcasting licence and the channel has also been banned by Lithuania and Latvia.