UK warns of 'severe cost' if Russia invades Ukraine after G7 meeting
Comments
By Euronews with AP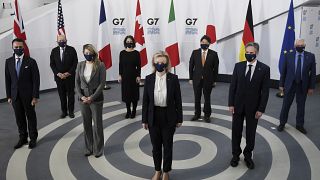 -
Copyright

Olivier Douliery/Pool via AP
The UK warned Russia that any "incursion into Ukraine that would carry a severe cost" after G7 foreign ministers met in Liverpool this past weekend.
"What we've seen this weekend is very much a united voice from the G7 nations who represent 50 percent of global GDP being very clear that there will be massive consequences for Russia in the case of an incursion into Ukraine that would carry a severe cost," said British foreign secretary Liz Truss.
"We want Russia to stop its aggression with respect to Ukraine and we are very clear that there would be severe consequences if that incursion took place. This is about deterring Russia from taking that action," she added.
Foreign ministers from the UK, US, Canada, France, Germany, Italy and Japan met over the weekend to discuss a host of topics including Russia and Iran.
Ahead of the meeting, Truss said G7 nations needed to stand up to "aggressors who are seeking to limit the bounds of freedom and democracy."
Many Western countries have said they will inflict economic sanctions if Russia invades Ukraine, expressing concern about a buildup of troops on the Ukrainian border.
Moscow denies planning to attack Ukraine and accuses Kyiv of its own allegedly aggressive designs.
The US State Department announced that top diplomat Karen Donfried will visit Kyiv and Moscow "to reinforce the United States' commitment to Ukraine's sovereignty, independence and territorial integrity".
Afterwards, Donfried will go to Brussels to talk with NATO and European Union allies.
The meeting was the first for Germany's new foreign minister Annalena Baerbock after the country's new government took office this past week.
Meanwhile, negotiations are continuing in Vienna in an attempt to bring parties back in line with the Iran nuclear deal.
"On the subject of Iran, there is still time for Iran to come and agree this deal. It is the last chance as I have said, but there is still a chance for them to come and do that. I would urge Iran to come back to the table with a serious offer," Truss said after the G7 meeting.
Climate change, tensions in the western Balkans, Afghanistan and North Korea were also on the agenda for a meeting that will include both foreign and development ministers from the G7 countries.
Britain is keen to work more closely with Asian nations as part of an "Indo-Pacific tilt" following the UK's departure from the European Union last year -- both to boost U.K. trade and as a counterweight to China's dominance.
Truss has invited ministers from the Association of Southeast Asian Nations to the Liverpool meeting, though many will be joining remotely because of the coronavirus pandemic.