Paris 2015 attacks: Accused Salah Abdeslam's 'provocations' on first day of trial
Comments
By Euronews with AFP, AP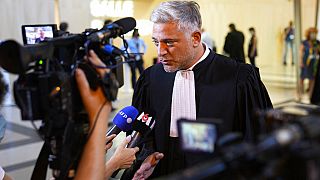 -
The historic trial of 20 men charged in the November 13, 2015 terror attacks in Paris opened on Wednesday.
Nine gunmen and suicide bombers struck France's national stadium, the Bataclan concert hall and Paris restaurants and cafes that night, leaving 130 people dead and hundreds more injured.
The main defendant in the case is Salah Abdeslam, the sole survivor of the extremist cell of the so-called Islamic State that carried out the attacks.
They were the deadliest jihadist attacks in France's history.
Abdelslam, wearing a black short-sleeved shirt and black trousers, said he wanted to testify that "there is no God apart from Allah and that Mohamed is his messenger."
He said he had given up his profession to "become a fighter for the Islamic State".
One of his lawyers denounced his detention conditions and the "strip-searches" he had to undergo upon his arrival at the courthouse, underlining his client's "depressed state".
Abdelslam interrupted him to complain that they were "being treated like dogs, here it's very nice, you've got flat screens, but back there..."
"I've been treated like a dog for six years and I've never complained," he also said.
He is the only one charged with murder and has refused to speak with prosecutors. The same IS network went on to strike Brussels months later, killing another 32 people.
Twenty men are charged, but six of them will be tried in absentia.
Jean Reinhart, a lawyer for the plaintiffs who lost a nephew in the attacks, said he planned to treat Abdeslam like any other defendant.
"He's not today's main event. The main aspect of today is that this trial started in very satisfying conditions," he added.
"It's a provocation, we expected it and in actual fact we're expecting absolutely nothing," Dominique Kielemoes, whose son was killed in the shootings at the bar La Belle Equipe, said outside the courtroom.
Abdeslam's co-accused who were in court stated their identity and replied to questions without comment.
'Historic trial'
Presiding judge Jean-Louis Périès opened the proceedings with a call for all those involved to "maintain the dignity of justice".
The 65-year old judge has been almost exclusively preparing for the trial for close to a year and a half.
"We are starting a trial today that has been described as historic, out of the ordinary," he said. It is "certainly historic because the facts, due to their dramatic intensity, are part of the national and international historic events of this century.
"The purpose of our court of assize is to examine the charges against each person and to draw all the penal consequences after having listened to each person," he said. "We must all keep this purpose in mind in order to stay on course."
The trial is being filmed for future generations and is expected to last nine months.
"It will probably be the longest trial in history," Christian Saint-Palais, a lawyer for one of the defendants, said.
It is also unprecedented because of the size of the case — 542 volumes — and the number of civil parties — at least 1,800.
The testimonies of survivors and relatives of the victims will start on September 28 and last five weeks.
"We know" that on this occasion, "a wave of emotion will break, the facts will come to the surface," Philippe Duperron, whose 30-year-old son was fatally injured at the Bataclan, and who will speak as president of the victims' association 13onze15 (13/11/15), said.
Deadliest violence since WWII
Nine Islamic State group gunmen and suicide bombers struck within minutes of one another at several locations around Paris on November 13, 2015, leaving 130 people dead and hundreds wounded.
It was the deadliest violence to strike France since World War II and among the worst terror attacks to hit the West.
The worst carnage was at the Bataclan concert hall, where three men with assault rifles gunned down scores of people and grabbed a handful of hostages.
Others targeted the national soccer stadium, where the president was attending a game, as well as cafes filled with people on a mild autumn night.
The trial is scheduled to last nine months. The month of September will be dedicated to laying out the police and forensic evidence. October will be given over to victims' testimony.
From November to December, officials including then-French President François Hollande - who was at the Stade de France on the night of the assaults - will testify, as will relatives of the attackers.