Haiti declares 'state of siege' after assassination of President Jovenel Moïse
Comments
By Euronews with AP, AFP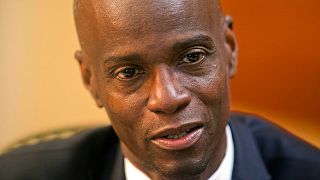 -
Copyright

AP Photo/Dieu Nalio Chery, File
Interim Haitian Prime Minister Claude Joseph declared a state of siege in the country on Wednesday, hours after the assassination of President Jovenel Moïse at his private residence.
"In line with article 149 of the Constitution, I have just chaired an extraordinary council of ministers and we have decided to declare a state of siege throughout the country," Joseph said during a speech broadcast on social media.
"They shot and killed the president and injured his wife," he went on, assuring that their deaths "would not go unpunished."
Moïse's wife, First Lady Martine Moïse, has been hospitalised, Joseph said.
"It is democracy and the Republic which must win. The dark forces will lose," he insisted.
Earlier on Wednesday, Joseph called the attack a "hateful, inhumane and barbaric act," adding that Haiti's National Police and other authorities had the situation in the Caribbean country under control.
Bocchit Edmond, the Haitian ambassador to the United States, said the attack was carried out by "well-trained professional commandos" and "foreign mercenaries" who were masquerading as US agents.
He said the gunmen were not currently in Haiti and had probably escaped over the land border to the Dominican Republic or by sea.
Moïse's wife, Martine, was in stable but critical condition and was likely to be sent to Miami for treatment.
Spiralling instability
The country of 11 million people has grown increasingly unstable under Moïse's rule with a spike in gang violence in the capital of Port-au-Prince. Food and fuel have become scarcer.
The country is also trying to recover from the catastrophic 2010 earthquake and Hurricane Matthew that struck in 2016.
In recent months, opposition leaders demanded that he step down, arguing that his term legally ended in February 2021.
Moïse and supporters maintained that his term began when he took office in early 2017, following a chaotic election that forced the appointment of a provisional president to serve during a year-long gap.
Moise was killed a day after he nominated Ariel Henry, a neurosurgeon, as the country's new prime minister.
Haiti was scheduled to hold general elections later this year.
International condemnation
The Dominican Republic ordered the "immediate closure" of its border with Haiti following the assassination.
Several Western nations, including Britain and the US, have condemned the attack.
The White House described it as "horrific" and "tragic" and said it was still gathering information on what happened.
UK Prime Minister Boris Johnson tweeted his condolences while calling for calm.
Christopher Sabatini, a senior fellow for Latin America at Chatham House, told Euronews that Haiti was in a "state of shock".
"There was a pressure cooker that had developed within Haiti, and now with the tragic assassination of the President, we don't know what will happen with the rising level of political tension."
Click on the player above to watch the full interview.