Incumbent PM Pashinyan wins Armenian legislative election but opposition contests result
Comments
By Euronews, AP & AFP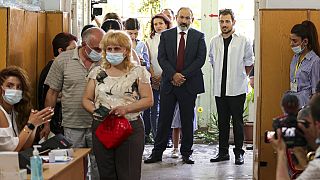 -
Copyright

Tigran Mehrabyan/PAN Photo via AP
Acting Prime Minister of Armenia Nikol Pashinyan won a parliamentary majority on Sunday, according to official results, although his main rival is crying foul.
Pashinyan's Civil Contract party won 53.9 percent of the vote, results released on Monday show, far ahead of his main opponent, former president Robert Kocharyan's bloc, which secured 21 percent of the vote.
A bloc affiliated with another former president came third with 5.2%, and another party had nearly 4%. Blocs need 7% to get into parliament and parties need 5%. Turnout was low at 49.4%.
The result will allow Civil Contract to form a new government.
Kocharyan protested the results even before they were released in full, alleging "pre-planned falsification" of votes and demanding "a careful study of alleged and reported fraud.
"Until these questions are fully answered, the bloc will not recognise the results of the election," his group said in a statement.
Pashinyan, who led the so-called Velvet Revolution against Armenia's ruling oligarchy in 2018, called the election following months of protests over a peace deal he signed in November with Azerbaijan that ended a six-week war over the contested region of Nagorno Karabakh.
As part of the deal, Armenia agreed to cede territory that the country had captured from Azerbaijan in 1994. The defeat has led to street protests and calls for Pashinyan, a 46-year-old former journalist and protest leader, to resign.
Pashinyan chose instead to gamble on new parliamentary elections just months after the end of the conflict, in which nearly 6,000 were killed.
He faced opposition from representatives of the Armenian military elite and is hoping a good showing on Sunday will counter the opposition.
Opposition leaders cast their votes
The election on Sunday had 21 political parties and four electoral blocs on the ballot, with more than 2,000 polling stations open across the country to an electorate of close to 2.6 million.
Early on Sunday, Artur Vanetsyan, the leader of Armenia's opposition centre-right Homeland Party, cast his vote and said the incumbent government would "no longer exist".
He told reporters that authorities would be responsible for any violence which flared up after the vote. Vanetsyan formerly served as the chairman of Armenia's National Security Service under Pashinyan, but he was arrested in November 2020 and accused of plotting to overthrow the government and kill the prime minister. He denied the charges, which were later dropped.
Kocharyan told those present at the polling station that he was voting for "a decent future and economic growth."
He also urged the government to investigate incidents against his campaign after leaflets against the political bloc led by Kocharyan appeared in the streets of the capital, Yerevan.
"If those who have done this still haven't been found, we suspect the authorities were involved," Kocharyan told reporters.
Acting PM branded 'loser' by main competitor
The embattled Pashinyan's Civil Contract party has taken on Armenia's entrenched political and economic elites over the past three years.
But Pashinyan was branded a "loser" by Kocharyan who also accused him of cowardice for ending the war.
An earlier survey by the MPG Institute put the two parties neck and neck, with 24 per cent of the vote. Pashinyan, who called the election in an effort to resolve post-war tensions, wanted to secure around to 60% of the vote to give him the mandate to remain in office.
Pashinyan has referred to this as a "mandate of steel" and has hammered the point home by literally brandishing a hammer during speeches.
One of his opponents is the man that he played a role in ousting in 2018, Serzh Sargsyan, who served as either prime minister or president for a decade from 2008 and in 2015 amended the constitution so that he could continue to lead Armenia despite restrictions on term limits.
Kocharyan also ran Armenia for a decade, between 1997 and 2008.
Around 2.6 million of Armenia's 2.9 million people are registered to vote on Sunday. They will elect 101 deputies out of a record number of parties, divided into four electoral blocs. If a governing majority is not won, a second round between the two biggest parties will be held in July.
Observers called in as fears mount over post-election violence
Unsurprisingly the conflict in Nagorno-Karabakh - which lies within Azerbaijan but was under the control of ethnic Armenian forces backed by Armenia - has dominated the campaigns of all 21 parties, and tensions over the outcome remain high.
Coupled with the aggressive language of all three major leaders, with Sargsyan notably calling on his supporters to combat Pashinyan's "hammer" with "clubs", the legacy of the conflict has raised fears that a close result could see post-election violence.
"The risk of street clashes is quite high after a vote preceded by such an aggressive campaign," political analyst Viguen Hakobian has warned.
Some 80 international observers from the OSCE Parliamentary Assembly were deployed to Armenia to oversee Sunday's proceedings.
Officials from the Council of Europe's Parliamentary Assembly of Europe were also assessing the election process.
Kari Henriksen, the head of the OSCE's mission in Armenia, also warned that hate speech and harsh rhetoric had been an issue during the campaign. "We will see in the end how this has affected the election, if it has," she said.
The international observer mission will present its preliminary report on Monday.