Kyrgyzstan voters back new constitution increasing president's power
Comments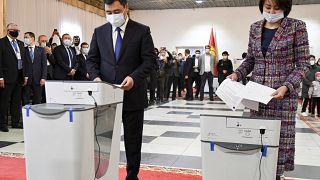 Copyright

AP Photo/Vladimir Voronin
Kyrgyzstan's national elections commission says voters have overwhelmingly approved a new constitution that substantially increases the president's powers.
The commission said results from 90% of the polling locations showed 79% approval of the constitution in Sunday's referendum.
The referendum came three months after Sadyr Zhaparov was elected president, following the ousting of the previous president amid protests - the third time in 15 years that a leader of Kyrgyzstan had been driven from office in a popular uprising.
"As you know, we have changed the constitution many times in the past 30 years, but every time we copied our constitution from other countries," Zhaparov told a media conference. "As of today, this is the first constitution that we have prepared ourselves."
Last year, Zhaparov was freed from jail where he was serving time on charges of abducting a regional governor amid a dispute over a gold mine.
Demonstrators who contested the results of a previous election broke him out.
On release, he mobilised stone-hurling supporters to evict President Jeenbekov from office and took the helm as interim leader.
Kyrgyzstan, a nation of 6.5 million people that borders China, is a member of Russia-dominated economic and security alliances.
It hosts a Russian airbase and depends on Moscow's economic support.