China slaps sanctions on UK lawmakers and entities amid Xinjiang row
Comments
By Euronews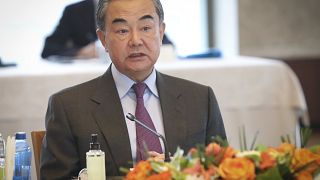 -
Copyright

AP/Turkish Foreign Ministry
China on Friday imposed sanctions on over a dozen British individuals and entities over what it says are "lies and disinformation" about Xinjiang, in a retaliatory action after the UK and European Union sanctioned Chinese officials for human rights abuses in the region.
The Chinese Foreign Ministry said in a statement that the sanctions apply to four entities and nine individuals, including five MPs. The individuals concerned and their immediate family members are now banned from entering China's mainland as well as Hong Kong and Macao and Chinese citizens or organisations are prohibited from doing business with them.
"The United Kingdom imposed unilateral sanctions on relevant Chinese individuals and entity, citing the so-called human rights issues in Xinjiang," the ministry said.
"This move, based on nothing lies and disinformation, flagrantly breaches international law and basic norms governing international relations, grossly interferes in China's internal affairs, and severely undermines China-UK relations," it added.
The ministry also said it had summoned the British ambassador to China to protest.
Britain's Foreign Secretary Dominic Raab said in response to the sanctions that the UK "condemn China's attempt to silence those highlighting human rights abuses, at home or abroad, including UK MPs and peers."
"It speaks volumes that, while the UK joins the international community in sanctioning those responsible for human rights abuses, the Chinese government sanctions its critics. If Beijing wants to credibly rebut claims of human rights abuses in Xinjiang, it should allow the UN High Commissioner for Human Rights full access to verify the truth," he added.
He has summoned the Chinese ambassador to the UK.
Sir Iain Duncan Smith, an MP among those sanctioned by Beijing, said on Twitter he will wear the sanctions as "a badge of honour".
Other individuals targeted include MPs Tom Tugendhat, Neil O'Brien, Tim Loughton, Nusrat Ghani, the latter of whom said she "won't be intimidated or silenced" and will also "take this sanction as a badge of honour."
Peers David Alton and Helena Kennedy as well as barrister David Alton and academic Joanne Nicola Smith Finley were also sanctioned.
Prime Minister Boris Johnson has offered his support to his fellow lawmakers, writing on Twitter: "The MPs and other British citizens sanctioned by China today are performing a vital role shining a light on gross human rights violations being perpetrated against Uyghur Muslims."
"Freedom to speak out in opposition to abuse is fundamental and I stand firmly with them," he also wrote.
The entities named are the China Research Group, the Conservative Party Human Rights Commission, the Uyghur Tribunal and Essex Court Chambers.
The China Research Group, set up by Conservative MPs including Tugendhat and O'Brien, said the sanctions are "just an attempt to distract from the international condemnation of Beijing's increasingly grave human rights violation against the Uyghurs."
'Profoundly sinister'
"It is tempting to laugh off this measure as a diplomatic tantrum. But in reality it is profoundly sinister and just serves as a clear demonstration of many of the concerns we have been raising about the direction of China under Xi Jinping," it added.
They join the 10 European individuals and four entities already slapped by Chinese sanctions earlier this week as the diplomatic row over Xinjiang escalates.
Beijing is accused of serious abuses towards the Uyghur and other Muslim minority groups including mass arbitrary detention, torture, forced political indoctrination and forced labour in concentration camps of about 1 million people.
Earlier this week, the EU and UK both imposed sanctions on China over Xinjiang. They were the first restrictive measures either sides had slapped on China for human rights abuses in over 30 years. They were swiftly followed by Canada and the US.
China has also lashed out at Western businesses over the matter with state media calling for a boycott of several brands on Thursday including H&M, Adidas and Nike which have all pledged not to use cotton from Xinjiang over forced labour concerns.