Georgia's ruling party appoints new PM amid opposition calls for fresh elections
Comments
By Euronews and AFP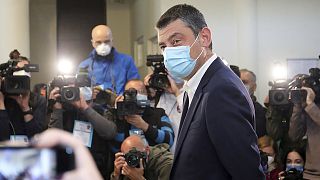 -
Copyright

Georgia's Prime Minister Press office via AP
Georgia's ruling party nominated defence minister Irakli Garibashvili, a longtime associate of billion tycoon Bidzina Ivanishvili, to take over the reins of government on Thursday, prompting renewed calls from opposition politicians to hold early elections.
It comes as prime minister Giorgi Gakharia announced his resignation on Thursday, criticising a court decision to order the detention of an opposition leader which he said could lead to a "political escalation" in the country.
A court in the capital, Tbilisi, granted a request to place Nika Melia, the chairman of the United National Movement (UNM) party, into pretrial custody over charges of inciting "mass violence" at anti-government protests in 2019.
Melia, 41, faces nine years in prison if convicted.
The opposition says the move is politically-motivated and a witch hunt, something the ruling Georgian Dream party - of which Gakharia is a member - has denied.
Georgian Dream announced the appointment of Defence Minister and former Prime Minister Irakli Garibashvili, 38, to succeed Gakharia on Thursday.
The appointment was described as "comical" by Nika Melia, who said the decision meant that "the Georgian Dream is over and early elections are imminent".
"Power will change in Georgia peacefully and very soon," he said.
The opposition has been calling for early parliamentary elections since the disputed October elections, narrowly won by the Georgian Dream, a party founded by Ivanishvili, the country's richest man and a former prime minister, who is suspected of controlling power behind the scenes.
Speaking in a televised government meeting on Wednesday, Gakharia, who was appointed prime minister in September 2019, said he had "taken the decision to leave office", adding that he saw the court decision as a "risk to the health and lives of our citizens and which increases the political polarisation of the country".
Speaking to AFP, Melia denounced on Wednesday the prosecution's charges against him as "judicial nonsense" and "unlawful".
On Wednesday evening, Georgian television showed images of riot police approaching the premises of the UNM's party headquarters where the leaders of almost all opposition parties met with Melia on Wednesday to show their support.
His supporters also warned that they would resist any attempt by the police to arrest him.
Officials at the US embassy in Tbilisi on Wednesday called on "the authorities and the opposition to exercise maximum restraint in the wake of tonight's [Wednesday's] ruling".
In a post on the embassy's Twitter account, US officials added: "Violence serves no one except those who want to undermine Georgia's stability. This must be resolved peacefully".
Georgia is in the midst of a political crisis following parliamentary elections in October which saw opposition politicians refusing to take their seats in parliament over alleged electoral irregularities.
The imprisonment of Melia is likely to worsen the situation in the country.
A new election – which the opposition has been demanding for months – could be a way out of the current crisis, says Kornely Kakachia, a professor of political science and director of the Georgian Institute of Politics.
But it remains to be seen what the ruling party, Georgian Dream, will decide.
"We don't know what the mood is in the ruling party, and generally in the public," Kakachia told Euronews, noting that Gakharia was part of the "softer camp" in the party.
Another unknown is whether Russia or the EU will be tempted to wade into the political crisis.
"Russia has its own geopolitical interests in all other post-Soviet countries, including Georgia, which it considers like its own backyard," Kakachia said.
Speaking to AFP in Tbilisi, the capital, on Thursday, Georgians showed their weariness with this latest episode in a country accustomed to political turmoil.
"Gakharia is smart, he found an opportunity to escape this swamp. The rest of the government is a bunch of idiots who only think about money," said Tamaz Pitskhelauri, a 65-year-old electrician.
"Corruption flourishes and we don't know which party or politician we can trust. A lot of young people don't trust anyone in Georgia," said Ana Bedia, a 24-year-old librarian.