President Biden freezes withdrawal of US troops from Germany
Comments
By Euronews & AP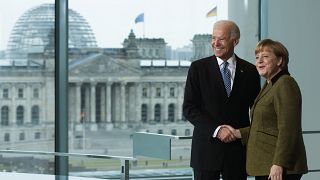 -
President Joe Biden will freeze the withdrawal of US troops from American bases in Berlin in his latest reversal of a decision made by Donald Trump during his tumultuous four-year stint in the White House.
Biden "will announce that Secretary Austin will lead a global force posture review and during the pendency of that review will freeze any troop redeployments from Germany," said White House National Security Advisor Jake Sullivan on Thursday.
Trump announced the withdrawal of 9,500 troops from Germany - of a total 34,000 stationed in the country - in June 2020 as part of an ongoing spat with Berlin and German Chancellor Angela Merkel.
Biden's freezing of the Trump initiative was welcomed in Berlin by Steffen Seibert, German Chancellor Angela Merkel's spokesman.
"We have always been convinced that the stationing of American troops here in Germany serves European and transatlantic security and so is in our mutual interest. We very much value this close, decades-long cooperation with the American forces that are stationed in Germany."
The announcement of the freeze on redeploying troops follows Biden's move to reverse Trump's ban on Muslims from a host of Muslim-majority nations entering the US.
The new US president also will announce on Thursday that the US will withdraw support for the ongoing Saudi-led offensive in Yemen.
Biden sees the United States "playing a more active and engaged role" to end the war through diplomacy, Sullivan said.