Alexei Navalny: More than 5,000 arrested across Russia as tens of thousands protest
Comments
By Euronews & AP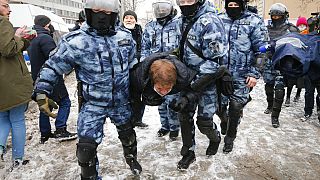 Russian police arrested more than 5,000 people on Sunday at protests to demand the release of jailed opposition leader Alexei Navalny.
Protests took place in multiple Russian cities, from Siberia and Russia's far east to St Petersburg and the capital, Moscow, in the biggest show of public dissent in Russia in years.
"My Russia is in prison!" a dozen demonstrators gathered in Vladivostok chanted, according to images published by the local branch of the organisation of the Russian opposition leader.
"There are few people this time because the police and the riot police had blocked the place in advance," 25-year-old protester Andrei said. "But as you can see, no one is afraid".
Other chants targeted Russian President Vladimir Putin.
Over 5,130 people have been detained by police across Russia's 11 time zones, according to monitoring group OVD-Info.
Meanwhile, prominent associates of Navalny have been detailed along with opposition journalists, and in St. Petersburg barriers have been erected to deter protesters. Navalny's spokeswoman, Kira Yarmysh, who was originally detained on January 21 and charged with calling for illegal rallies on January 23, was on Monday put under house arrest until March 23.
Navalny's team has called for another protest in Moscow on Tuesday when he will face a court hearing that could send him to prison for years.
Navalny's arrest on January 17 sparked nationwide protests last week in about 100 cities, with nearly 4,000 people reportedly arrested.
His arrest came as he tried to enter the country after flying back from Germany, where he had spent five months recovering from nerve-agent poisoning.
At one point during the protest, demonstrators walked towards the prison where Navalny is being held. They were pushed back by riot police who chased them.
US and EU condemn detentions in Russia
US Secretary of State Antony Blinken said the US condemned "the persistent use of harsh tactics against peaceful protesters and journalists by Russian authorities for a second week straight."
"We renew our call for Russia to release those detained for exercising their human rights, including Aleksey Navalny."
The Russian foreign ministry said Blinken's call was an "interference in Russia's internal affairs".
The EU's high representative for foreign affairs Josep Borrell Fontelles tweeted that he deplored "widespread detentions and disproportionate use of force against protesters and journalists in Russia".
"People must be able to exercise their right to demonstrate without fear of repression."
EU foreign ministers failed to agree on new sanctions against Russia last week over Navalny's arrest and continued detention. Multiple eastern member states including Estonia, Latvia, Lithuania, Poland, and Romania have called for the bloc's restrictive measures — which for now target six Russian individuals and organisations — to be strengthened.
On sanctions, France's Minister for European Affairs, Clément Beaune, said on Monday morning that the EU "must be clear-headed, it's not enough."
"We must go further," he told France Inter radio. "I think the option of Nord Stream is one that should be looked at."
He added that Paris is favourable to work on the gas pipeline linking Russia to Germany being stopped.
Lubyanka Square
Sunday's demonstration in Moscow was planned for Lubyanka Square, where the Federal Security Service that Navalny claims committed the poisoning is headquartered. But due to huge police presence it was relocated to another public square a mile away.
Last week's protests were the largest and most widespread in many years, and authorities aim to prevent a repeat.
Police conducted a series of raids this week at apartments and offices of Navalny's family, associates and anti-corruption organisation.
His brother Oleg, top aide Lyubov Sobol and three other people were put under two-month house arrest on Friday, as part of a criminal probe into alleged violations of coronavirus regulations during last weekend's protests.
Irina Volk, a spokeswoman for the Interior Ministry that runs Russia's police, also cited the pandemic in a Saturday warning against protests.
She said participants found in violation of epidemiological regulations could face criminal charges.
Navalny fell into a coma on August 20 while on a domestic flight from Siberia to Moscow and was transferred to a Berlin hospital two days later.
Labs in Germany, France and Sweden, and tests by the Organisation for the Prohibition of Chemical Weapons, established that he was exposed to the Soviet-era Novichok nerve agent.
Russian authorities have refused to open a full-fledged criminal inquiry, citing a lack of evidence that he was poisoned.