France's lockdown will be lifted on Dec 15 - but bars and restaurants will stay closed for Christmas
Comments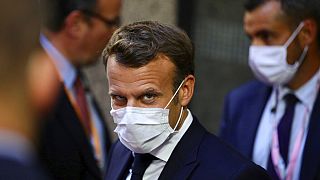 France's coronavirus lockdown will be lifted on December 15 - but bars and restaurants will stay closed over the Christmas period, Emmanuel Macron said on Tuesday evening in a televised address. 
It was part of a three-stage easing of restrictions over the next two months. 
Here is a summary of the key points:
November 28
Shops can reopen under strict hygiene restrictions
Lockdown will continue but restrictions on how long you can leave home for are eased. Currently, the French can exercise for up to an hour within a one-kilometre radius of their home. That will be extended to a radius of 20 kilometres for up to three hours.  
Religious centres can reopen but with no more than 30 people at any one time.
December 15
Lockdown is lifted if the health situation continues to improve, allowing people to move around the country and spend Christmas with their families and friends. 
Cinemas, theatres and museums will reopen their doors.
Instead of a lockdown, the country will revert to a night-time curfew (9 pm to 7 am).
Bars and restaurants will stay closed over Christmas
Ski resorts are unlikely to be open for Christmas, says Macron, but a final decision is expected in the coming days. Macron said he favours a reopening in January under good conditions and that he would like to coordinate with the rest of Europe on this issue.
January 20
If the health situation allows it, restaurants will be allowed to reopen.
There is no indication at this stage when bars will be able to open again
Sports centres and gyms will be allowed to reopen
What else did Macron say?
Macron said the country had passed the peak of its second wave of coronavirus. He said the easing of restrictions had been made possible by an improving picture nationwide. But, he added, several more weeks of restrictions would need to be endured to allow the country to get the pandemic fully under control. 
"If we do not want to undergo a third confinement tomorrow, we must redouble our vigilance: protect our loved ones, especially the most vulnerable, by wearing a mask, including at home when we are with friends or with relatives who do not live with us on a daily basis."
He said the most vulnerable in society should begin to get a COVID-19 vaccine from the end of December or the beginning of January. 
France's prime minister, Jean Castex, is expected to give more detail on the easing of restrictions on Thursday morning.