Europe's Muslims being treated like Jews before WWII, says Erdogan
Comments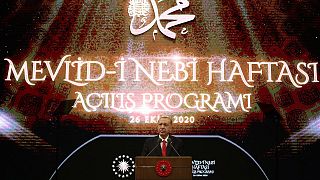 -
Copyright

Anadolu Agency/ Mustafa Kamacı
Islamophobia in Europe has reached levels comparable to the treatment of Jews before the Second World War, Recep Tayyip Erdoğan has said.
He suggested on Monday that Europe was accustomed to "relocations, inquisitions and genocides", and that Muslims across the continent were being attacked.
In the same speech, the Turkish president called for a boycott of products from France amid a spiralling row with Emmanuel Macron over the French president's perceived attitude toward Islam and Muslims.
"The rising Islamophobia in the West has turned into a wholescale attack on our book, our prophet and everything we consider holy", he said a televised speech.
"Relocations, inquisitions and genocides towards members of different religions is not a practice that is foreign to Europe.
"The crimes against humanity committed against Jews 80 years ago, the acts against our Bosnian siblings in Srebrenica just 25 years ago are still in the memory."
Erdoğan cited recent events as evidence that European Muslims were under sustained attack, including a police raid last week on the Kreuzberg Mevlana Mosque near Berlin where 150 officers were deployed.
Prosecutors in Germany said they suspected €70,000 in emergency coronavirus funds had been used fraudulently by officials in the mosque.
Boycott call
But the Turkish president said the raid, as well as a claim by Macron that Islam was in a state of "crisis" worldwide, was evidence of a wider attack on Muslims in Europe.
"These incidents are a signal flare to a particularly dangerous process that produce very grave results for European Muslims," he said.
He also issued a call to boycott French products in Turkey, mirroring similar moves by Qatari supermarkets.
The Turkish president said during his speech on Monday: "I am now telling my nation, just as they are saying in France not to buy anything from Turkish brands, I call on my nation here and now: do not pay attention to French-labelled goods, do not buy them."
It was not immediately clear what boycott of Turkish products in France Erdoğan was referring to.
Erdoğan and Macron have been embroiled in a bitter row since the French president's remarks on Islam after the brutal beheading earlier this month of schoolteacher Samuel Paty.
Paty had led a discussion with his class on cartoons of the Prophet Muhammad.
Mental health
Macron subsequently spoke of problems created by radical Muslims in France practicing ``"Islamist separatism".
But Erdoğan said the French leader had attacked Islam and freedom of faith. Over the weekend he questioned Macron's mental health and said he ought to be examined.
That remark prompted France to withdraw its ambassador in Ankara for consultations, saying Erdoğan's comments were an "insult".
Euronews international correspondent Anelise Borges said that many in France believe Macron's remarks are aimed at winning voters from the "right and the far-right" — those who tend to vote for Marine Le Pen's Rassemblement National, which she said had been scoring relatively well in recent polls.
(You can watch her live on Euronews Tonight in the player above).
German chancellor Angela Merkel's spokesman added on Monday that Erdoğan's words were "defamatory" and "completely unacceptable" in the context of the schoolteacher's murder.