Russian court sentences former US marine Paul Whelan to 16 years in prison for espionage
Comments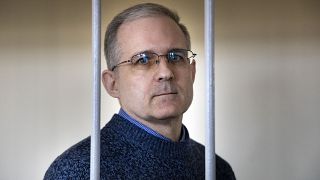 -
A Russian court sentenced Paul Whelan, an American and British citizen to 16 years in prison for espionage, the US ambassador said outside a Moscow courthouse.
Whelan, a former US marine, was arrested in a Russian hotel on December 28. Whelan said he had been set up when he was handed a flash drive with classified information on it, the AP reports.
US Ambassador to Russia John Sullivan called the verdict a "mockery of justice" stating that the embassy "had not seen evidence" in the case.
Sullivan said the US government was concerned about the case at the highest levels.
Whelan also holds US, UK, Canadian and Irish passports.
Members of his family have decried the lack of evidence and the unfair trial in the case. Whelan faced up to 20 years in prison for the spying charges.
The US embassy in Moscow said Russian prosecutors led a secret and unfair trial.
"Fair and transparent? No. Evidence produced? No. The world is watching," the embassy tweeted, quoting Ambassador Sullivan before the trial.
US Secretary of State Mike Pompeo has also called on Russia to release Whelan.
Whelan recently received surgery while in prison but the US said Russian authorities waited until it was absolutely necessary for him to have the surgery.
How will this case reflect on Russia's legal system?
A guilty verdict conforms "to our expectations of the Russian legal system, that is to say, its utter demonstrable lack of independence from the government's executive branch," Dr Sergey Radchenko, a Cold War historian and director of research at Cardiff University's School of Law and Politics, told Euronews.
"We do not need Whelan's case to know that Russia's courts easily succumb to external political pressure, that there is deep-rooted corruption in the legal system, and that the due process is often known mainly by its absence," Dr Radchenko added, citing cases against Russia's opposition politicians and human rights activists.
Whelan's lawyer has said that they will appeal the verdict given today but Radchenko said he would likely have to be part of a future prisoner exchange.
"There's no doubt that he is being used for leverage against the Americans," Radchenko added.