Eurowings cancels more than 170 flights due to 3-day cabin crew strike
Comments
By Euronews with DPA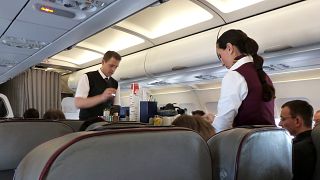 -
Lufthansa's low-cost carrier Eurowings has canceled more than 170 flights due to a three-day strike by cabin crew starting on Monday.
The cancellations mostly affect flights within Germany from airports that include Cologne-Bonn, Hamburg, Munich, Stuttgart and Dusseldorf.
Eurowings said it was working to minimize disruption to travelers and that more than 1,000 flights would operate according to schedule.
Cabin crew union UFO called the strike action during a dispute over opportunities to work part-time at Germanwings, which provides around 30 of Eurowings' 140 aircraft.
Deputy Chairman of UFO, Daniel Flohr, lamented the failure of talks with Lufthansa, saying the flag-carrier failed to crew a clear vision for its plan to bring the Germanwings aircraft under Eurowings control.
In a press release giving details of the cancellations, Eurowings called the strike "unfounded and incomprehensible to us."
For flights within Germany that are affected, passengers will be able to exchange their booking for a Deutsche Bahn ticket via the Eurowings app or the service centre.
It is the fourth strike over the issue this year. In November, about 1,500 flights were cancelled, affecting about 200,000 passengers.