Jeremy Corbyn 'must stand down immediately', say Jewish Labour
Comments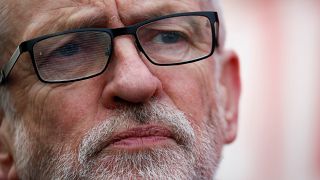 Britain's leader of the opposition, Jeremy Corbyn, has defended his decision to stay at the helm of the party until a successor has been elected following the party's biggest defeat in more than 80 years.
"I was elected to lead the party and I think the responsible thing to do is not to walk away from the whole thing and I won't do that. I will stay here until there has been somebody elected to succeed me and then I will step down at that point," he said during a pool interview.
"The National Executive will have to meet, of course, in the very near future and it is up to them. It will be in the early part of next year," he added.
Corbyn had drawn criticism from within the party earlier in the day when he ruled out stepping down immediately.
"This is obviously a very disappointing night for the Labour Party," Corbyn acknowledged then.
Labour lost 42 seats including in constituencies it had held for decades as a blue wave unfurled over England and Wales with the Conservatives led by Prime Minister Boris Johnson gaining 66 seats to secure the party's biggest majority since the 1950s.
It is the worst Labour defeat since 1935.
Former shadow foreign secretary Hilary Benn said a transition to the new leadership was clearly coming, adding: "it's very important to reflect on and discuss why we were unable to win people's trust," said former shadow foreign secretary Hilary Benn.
Labour candidate Caroline Flint explained that the party would probably be split over where to lay the blame of the defeat with Corbyn supporters likely to point the finger at Brexit while remain-supporters would blame the leader for the party's leftwing lurch.
"Sorry we couldn't offer you a Labour Party you could trust," she added.
Labour candidate Ruth Smeeth said on Sky News that it was an "appalling, heartbreaking night for the Labour party." She then called on Corbyn to resign as leader and said Labour was the "racist party".
Matthew Goodwin explained his view of the party's failure arguing that the problem is that it's breaking into multiple parties. In his view, it's not as simple as replacing Jeremy Corbyn.
For the Jewish Labour Movement, "Labour's failure in this election lies squarely with the Party's leadership."
"After this historic election defeat, Jeremy Corbyn must stand down immediately. His team and supporters who have been responsible for Labour's moral and political failures must take responsibility themselves for allowing five more years of Tory rule," it added in a statement posted online.
The British Muslim Council of Britain has, however, expressed fear at the result of the election and called on Johnson to "reassure British Muslims of their place in our country".
Harun Khan, Secretary-General of the Muslim Council of Britain, said in a statement that " there is a palpable sense of fear amongst Muslim communities around the country".
"Now we worry that Islamophobia is "oven-ready" for government. Mr Johnson has been entrusted with huge power, and we pray it is exercised responsibly for all Britons," he added.