'Alternative Nobel Prize' Laureates presented award in Stockholm
Comments
By Euronews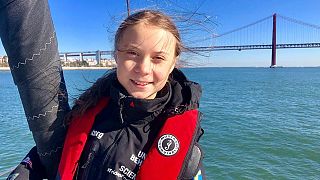 The laureates of The Right Livelihood Awards - also known as the Alternative Nobel Prize - have been presented with their awards at an event in Stockholm on Wednesday evening.
This year's winners are human rights defender Aminatou Haidar, lawyer Guo Jianmei, indigenous leader Davi Kopenawa and the Hutukara Yanomami Association, and climate activist Greta Thunberg.
Thunberg, who is currently en route across the Atlantic Ocean to the COP25 climate summit in Madrid, was represented at the event by activists from Fridays for Future.
In a statement, the 16-year-old said she was "deeply grateful" for the "huge recognition", before urging the focus to be moved away from her and directed instead on the climate strike movement.
Guo Jianmei, who won the award "for her pioneering and persistent work in securing women's rights in China," was also not in attendance at Wednesday's ceremony.
She said in a statement: ""The Right Livelihood Award recognises and acknowledges the efforts of my team and me to uphold women's rights and the rule of law in China. This award serves as an encouragement and motivation."
Meanwhile, Aminatou Haidar was awarded the prize "for her steadfast nonviolent action, despite imprisonment and torture, in pursuit of justice and self-determination for the people of Western Sahara," according to the awards website.
Davi Kopenawa and the Hutukara Yanomami Association were awarded their prizes "for their courageous determination to protect the forests and biodiversity of the Amazon, and the lands and culture of its indigenous peoples."
As part of the ceremony, whistleblower Edward Snowden spoke via livelink from Moscow, and Swedish singer-songwriter José González also performed.
You can rewatch the awards presentation by clicking on the player above.