Watch: Models get a taste for the sweet at Paris Chocolate Fair
Comments
By Euronews with Reuters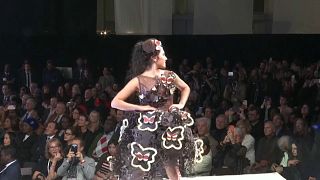 The 25th Paris Chocolate Fair, or Le Salon du Chocolat, saw models take to the catwalk in outfits made from the sweet treat.
The show on Tuesday celebrated chocolate-producing countries worldwide including Peru, Ivory Coast and the Philippines, featuring traditional music from and outfits inspired by each country.
The First Lady of Ivory Coast, Dominique Folloroux-Ouattara, was among the audience watching models including this year's Miss France, Vaimalama Chaves, strut their stuff. Chaves, who hails from French Polynesia, wore a traditional outfit made of Tahitian chocolate.
Designer Elsa Muse described the level of work which goes into such a dress. She made 2,000 individual chocolate pearls and covered them in different textures using cocoa powder and crushed cocoa to create a pattern, before threading each pearl on to an elastic string to be attached to the dress.
The Paris Chocolate Fair, which runs until 3 November brings together 500 participants and chocolate from 20 countries. Visitors can attend chocolate-making demonstrations, an exhibition on the history of the chocolate fashion show, or sample the creations of 230 different exhibitors.