Five key points from day two of this year's United Nations
Comments
By Euronews & Reuters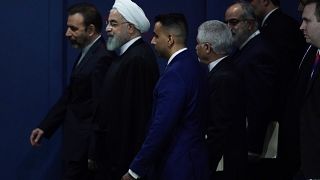 Copyright

REUTERS/Carlo Allegri

-
World leaders are in New York for the second day of the United Nations General Assembly, with a host of leaders taking to the podium at the UN HQ.
The event comes as tensions rise in the Middle East over recent attacks on Saudi Arabian oil facilities.
The US blamed these attacks on Iran, allegations that Tehran denies. There is also an emphasis on climate change, with mass protests taking place in the run-up to this week.
Yesterday Donald Trump took aim at Iran and China, and declared that the "future belongs to patriots," not globalists.
French President Emmanuel Macron and German Chancellor Angela Merkel both talked up the need to open a dialogue between the US and Iran. Macron said world leaders lacked courage but needed it to build peace and take responsibility.
And Brazil's far-right president Jair Bolsonaro opened the speeches yesterday, blasting foreign interest in the Amazon rainforest and denying it is being destroyed, instead accusing outsiders of being interested in its mineral wealth.
Day 2 at the U.N. - Five key points
1. Trump's Ukraine call goes public
It was perhaps inevitable that President Donald Trump dominated this year's United Nations General Assembly, whether that was the tongue-lashing he received from Iran's leader Hassan Rouhani or the fallout from the U.S. leader's infamous call to his Ukrainian counterpart Volodymyr Zelensky.
It is that scandal which dominated headlines from the U.N., leading to briefings from both sides and an awkward bilateral meeting between the two leaders in New York during which the Ukranian leader felt the need to urge that he had not been "pushed" by Trump.
After the notes were publicised, Kelensky said that he had not expected his side of the phone call - in which he repeatedly praises Trump and even reveals that he stayed at Trump Tower on a trip to New York - to be published, only the U.S. president.
"I personally think that sometimes such calls between presidents of independent countries should not be published," Zelenskiy told Ukrainian media in a briefing in New York that was broadcast in Ukraine. "I just thought that they would publish their part."
Zelenskiy said he did not know the details of an investigation into Biden's son, repeating that he wants his new general prosecutor to investigate all cases.
2. Hassan Rouhani hits out at U.S.
In a speech to the General Assembly, Hassan Rouhani, the president of Iran, told the US: "Iran will never negotiate with an enemy that seeks to make Iran suffer with the weapons of poverty and sanctions."
"Our response to talks under pressure is 'no'," he added.
Using his speech at the UN General Assembly in New York City to hit back at Donald Trump over sanctions imposed on his country, Hassan Rouhani warned his nation "will never forget or forgive these crimes and these criminals".
He claimed Iran had survived and resisted "the most merciless economic terrorism," and told the US if it wanted an agreement beyond the 2015 nuclear deal it abandoned "you have to pay more".
"The attitude of the incumbent US government towards the nuclear deal not only violates the provisions of the United Nations Security Council Resolution 2231 but also constitutes a breach in the sovereignty of the political and economic independence of all the world's countries," he went on.
3. Saudi Arabia hits out at Iran
Saudi Arabia is in consultation "with friends and allies about the next steps to take" after the attack on its oil facilities earlier this month, but is waiting for the findings of an investigation, Saudi Arabia's Minister of State for Foreign Affairs Adel al-Jubeir told reporters on Wednesday.
"This cannot go unanswered, there has to be consequences for Iran for what they did," Jubeir told a United Against Nuclear Iran conference.
The attack on the heartland of Saudi Arabia's oil industry damaged the world's biggest petroleum-processing facility and knocked out more than 5% of global oil supply.
"The United Nations sent people to be part of the investigation, other countries have sent experts to be part of the investigation," Jubeir told reporters earlier on Wednesday on the sidelines of the United Nations.
4. Colombia's president warns Venezuela's Maduro
Colombia will give the United Nations a dossier of "conclusive proof" of Venezuelan President Nicolas Maduro's support for terrorist groups, President Ivan Duque said in his speech on Wednesday.
Colombia has long accused Maduro of sheltering rebel fighters and crime gang members.
The allegations reached a fever pitch last month when several former commanders from the Revolutionary Armed Forces of Colombia (FARC) announced they were re-arming in a video Colombian officials say was filmed in the neighboring country.
5. Trump hints that the U.S.-China trade war is over
The U.S. president said on Wednesday that a deal to end a nearly 15-month trade war with China could happen sooner than people think and that the Chinese were making big agricultural purchases from the United States, including of beef and pork.
"They want to make a deal very badly... It could happen sooner than you think," Trump told reporters in New York.
Trump said later after trade discussions with Japanese Prime Minister Shinzo Abe there was a good chance of reaching a trade deal with China.
He said China was trying to be nice to him. The U.S. leader spoke a day after delivering a stinging rebuke to China's trade practices at the United Nations General Assembly, saying he would not accept a "bad deal" in U.S.-China trade negotiations.
Here is the full list of speakers remaining today
1. Kenya: President Uhuru Kenyatta
2. Namibia: President Hage Geingob
3. Panama: President Laurentino Cortizo
4. Togo: President Faure Gnassingbe
5. Costa Rica: President Carlos Alvarado Quesada
6. Libya: TBC
7. Ghana: President Nana Akufo-Addo
8. Lithuania: President Gitanas Nauseda
9. Ireland: President Michael D. Higgins
10. Mali: President Ibrahim Boubacar Keita
11. Kiribati: President Taneti Mamau
12. Equatorial Guinea: President Teodoro Mbasogo
13. Zimbabwe: President Emmerson Mnangagwa
14. Tanzania: President John Magufuli
15. Madagascar: President Andry Rajoelina
16. Kuwait: Sheik Jaber Al-Mubarak Al-Hamand Al-Sabah
17. Armenia: Prime-Minister Nikol Pashinyan