Hurricane Dorian hits Bahamas as second-strongest Atlantic storm on record
Comments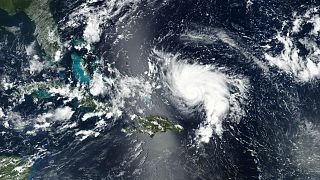 Copyright

NASA/Handout via REUTERS
Hurricane Dorian hit the Bahamas as the second strongest Atlantic storm on record overnight and inched closer to the United States, with parts of Florida evacuating and Georgia and the Carolinas bracing for wind and flooding.
The U.S. National Hurricane Center (NHC) said Dorian made landfall on Elbow Cay in the Abaco Islands as a Category 5 storm late on Sunday with maximum sustained winds of 185 miles per hour and gusts of more than 220 mph.
Bahamas residents reported trees snapping and docks being destroyed before the brunt of the storm arrived. The pummeling was expected to last for hours as the hurricane slowed to just 1 mph, "prolonging its catastrophic effects," the NHC said.
In Florida, residents and tourists alike hunkered down as the powerful storm spun across the Atlantic Ocean.
Over 20 million Americans could feel the storm's impact and Dorian has the potential to put millions of people at risk.
Holiday attractions such as Walt Disney World lie in its path, as well as the NASA launchpads along the Space Coast, and Mar-a-Lago resort in Palm Beach, which belongs to US President Donald Trump.
"Although fluctuations in intensity are possible early next week, Dorian is expected to remain a powerful hurricane during the next few days," the NHC said in a statement on Friday.
On the east coast of Florida, where the storm's winds are expected to pick up speed on Monday morning, residents bought up supplies such as bottled water and plywood, while some petrol stations reported running out of fuel.