U.S. slaps sanctions on Iran's foreign minister
Comments
By Dan De Luce with NBC News Politics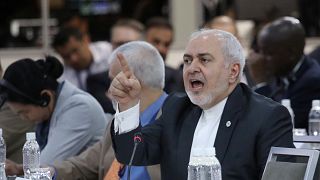 Copyright

Manaure Quintero Reuters file

-
The Trump administration said Friday it has imposed sanctions on Iranian Foreign Minister Mohammad Javad Zarif, saying he carries out the regime's "reckless agenda" and spreads "propaganda."
"The United States is sending a clear message to the Iranian regime that its recent behavior is completely unacceptable," Treasury Secretary Steven Mnuchin said in a statement.
The designation comes more than a month after the White House said it planned to take action against the Iranian foreign minister. The Trump Administration sanctioned the office of the country's supreme leader, Ayatollah Ali Khamenei, at the end of June, at which point Mnuchin told reporters Zarif would be sanctioned later that week.
"The US' reason for designating me is that I am Iran's 'primary spokesperson around the world," Zarif said in a tweet. "Is the truth really that painful? It has no effect on me or my family, as I have no property or interests outside of Iran. Thank you for considering me such a huge threat to your agenda."
Zarif had previously dismissed the prospect of sanctions as an empty gesture.
"Everyone who knows me knows that I, or my family, do not own any property outside Iran," he told the New York Times. "I personally do not even have a bank account outside Iran. Iran is my entire life and my sole commitment. So I have no personal problem with possible sanctions."
The move is the latest in a wave of sanctions that the Trump administration has introduced against Iran as part of its maximum pressure campaign.
Mnuchin said Zarif was the chief spokesman for a government that he said blocks the flow of information to its own citizens.
"At the same time the Iranian regime denies Iranian citizens' access to social media, Foreign Minister Javad Zarif spreads the regime's propaganda and disinformation around the world through these mediums," Mnuchin said.