Meghan Markle guest-edited British Vogue to 'shine light' amid 'daily darkness'
Comments
By Rachel Elbaum and Keir Simmons with NBC News World News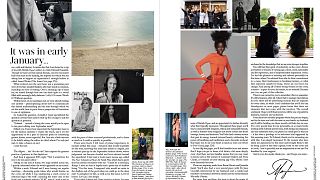 -
LONDON — Meghan, the Duchess of Sussex, on Monday shared in an editor's letter for the September issue of British Voguethat her aim is to "shine light in a world filled with seemingly daily darkness."The biracial, American-born royal has faced withering criticism from some parts of the British press since marrying Prince Harry in May 2018. The letter accompanied by another letter from Vogue editor Edward Enninful, appeared in an issue of the magazine Meghan guest-edited.
The former Meghan Markle, who was an actress before marrying Harry, interviewedformer first lady Michelle Obama for the issue, which featured 15 women who are called the "forces for change" on the cover.Included among them are New Zealand Prime Minister Jacinda Ardern, climate change activist Greta Thunberg and Laverne Cox, the first trans person to be featured on the cover of British Vogue.More than half of the women on the cover are women of color.In the letter, Meghan describes discussing "how to pivot from a perspective of frustration to one of optimism," with Enninful, and notes her "candid and heartfelt conversation" with Obama. The interview was released Monday.The comments, as well as her choice of women to highlight, came strikingly close to political commentary for a member of the British royal family, who are traditionally apolitical — in public at least.The cover also features a mirror, literally — "a space for you, the reader, to see yourself. Because you, too, are part of this collective," Meghan writes.She isn't the first royal to guest-edit a publication. Harry was the guest editor on BBC radio in December 2017, and interviewed his father, Prince Charles, along with former President Barack Obama. Kate, the Duchess of Cambridge, guest-edited the Huffington Post in February 2016 to highlight children's mental health.Since getting together with Harry, Meghan has come under fire in the British media for being outspoken, as well as for the pricey renovations she and Harry made to their new home in Windsor, wearing expensive designer clothing, and even for holding her baby son, Archie, "awkwardly."
She has also withstood attacks by controversial, right-wing commentator and Donald Trump fan Katie Hopkins.Right-leaning U.K. newspaper The Sun branded this issue of Vogue, "Meg's Lefty Issue."For Meghan, who asked Enninful if she could edit the issue, it was a rare opportunity. She is the first co-editor of the September issue in the magazine's history."Over a steaming cup of mint tea, we teased through how one can shine light in a world filled with seemingly daily darkness. Lofty? Of course. Worth it? Without question," she wrote about her first meeting with Enninful, in her guest editor's letter, released Monday evening.Enninful wrote in his letter that aside from her advocacy for social change, Meghan's very presence in the royal family is inspiring."I can't overstate how much it meant to me to see HRH The Duke of Sussex marry this brilliant, biracial, American powerhouse. I simply never imagined that, in my lifetime, someone of my color would — or could — enter the highest echelons of our Royal Family," he wrote."She bears all the hallmarks of a true activist," he added.He isn't the only one who has been impressed with her activism.
News
"She's shown a real interest in the issues our women face, not just a surface level interest, but she's trying to understand the issues to understand what needs to be done in order to make different futures for women," said Alice Williams, the founder of Luminary Bakery, a social enterprise that Meghan called out in her guest editor's letter.Luminary Bakery trains women in difficult circumstances to bake so they can break the cycle of poverty, violence and disadvantage.Actor and body positivity advocate Jameela Jamil is one of the women featured on the cover."I remember being a teenage model when I was 15, starving myself thinking that that would bring me success or something like a cover of Vogue, and it's so amazing to find myself 20 years later, and 30 pounds heavier, actually being on the cover," Jamil said in an interview with NBC News.British Vogue hits newsstands and will be available to be digitally downloaded Aug. 2.