Trump rebuffs Tehran's claim that U.S. did not destroy Iranian drone
Comments
By Dartunorro Clark with NBC News Politics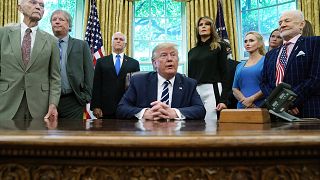 Copyright

Chip Somodevilla Getty Images

-
President Donald Trump on Friday said that there is no doubt that the U.S. destroyed an Iranian drone earlier this week, contradicting earlier claims from Tehran that it did not lose a drone in the area.
"No doubt about it. No, we shot it down," Trump said on Friday in the Oval Office when asked Tehran's denial that U.S. Marines on Thursdaytook down an Iranian drone in the Gulf of Hormuz. National Security Adviser John Bolton then reiterated Trump's account of the incident, which is the latest provocation between Washington and Tehran.
Senior defense officials, however, told NBC News on Thursday that the drone was not shot down, but was brought down and destroyed when U.S. Marines jammed its signals. The action took place near the Strait of Hormuz, a strategic waterway off of Iran's coast, which separates the Persian Gulf and the Gulf of Oman.
Seyed Abbas Araghchi, Iran's deputy foreign minister, had rebuffed Trump's claim in a tweet earlier on Friday.
"We have not lost any drone in the Strait of Hormuz nor anywhere else," Abbas Araghchi said. "I am worried that USS Boxer has shot down their own [drone] by mistake!"
Iran's Revolutionary Guard forces also denied the claim in a Thursday statement. It did, however, confirm that a drone had previously conducted a reconnaissance mission and flown back to base.
Thursday was only the latest in a series of tense incidents in the area. A senior U.S. defense official and a British government spokesperson told NBC News earlier this month that Iranian boatsin the strait attempted to stop a British commercial vessel from sailing through, prompting the vessel to be driven away by a British military ship.
Last month, military officials in Iran said they shot down a U.S. surveillance drone after it entered Iranian airspace. The U.S. has said that the aircraft was flying in international airspace above the strait.
Trump on Friday said that he is not concerned with a broader clash with Iran in the Strait of Hormuz, but boasted about the U.S. military being swiftly prepared to take retaliatory action if provoked.
"We have the greatest people in the world, we have the greatest equipment in the world, we have the greatest ships, most deadly ships," Trump said. "We don't wanna have to use them, but they're the most deadly ships ever conceived, and we hope for their sake they don't do anything foolish. (If) they do, they will pay a price like nobody's ever paid a price."