Indonesia hit by 7.3 magnitude earthquake
Comments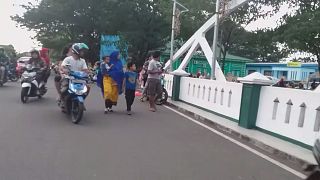 Copyright

Egon Enviro Batu Bacan via REUTERS
An earthquake of magnitude 7.3 struck the Moluccas islands in eastern Indonesia on Sunday, causing panic among residents — but there were no immediate reports of casualties or major damage.
The quake occurred at a depth of 10 km in an area around 170 km southeast of the city of Ternate, according to the US Geological Survey.
At least seven aftershocks stronger than magnitude 5 were recorded following the main quake, according to the Indonesian Meteorological agency, BMKG.
But the agency said the quake was not in danger of causing a tsunami.
The agency also said the main quake was felt in other parts of Indonesia, including cities on Sulawesi island and in Sorong on Papua island.
The quake hit hours after a magnitude 6.6 struck offshore Western Australia, south of Indonesia.