Second judge hands Trump census defeat, won't allow lawyers off citizenship case
Comments
By Pete Williams with NBC News Politics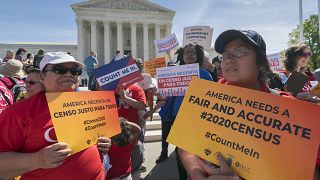 Copyright

J. Scott Applewhite AP file

-
WASHINGTON — A second federal judge is refusing to let Justice Department lawyers withdraw from a lawsuit over the government's plan to put a citizenship question on the 2020 census form that goes to every household.
Federal District Court Judge George Hazel of Maryland said in an order on Wednesday that he "cannot fathom" how a change in the government's entire legal team could avoid having some effect on proceedings in his court unless the Justice Department can assure him of an orderly transition.
He is overseeing a lawsuit, separate from the case that went to the Supreme Court, in which opponents say that putting the citizenship question on the form would amount to discrimination. That case is now in the discovery phase, in which lawyers for both sides are gathering evidence.
On Monday, the Justice Department said the lawyers who worked on that case and another in federal court in New York would withdraw and an entirely new team of lawyers would be brought in. On Tuesday, the judge in the New York case refused their request to withdraw but gave them a chance to try again, provided they give a better explanation for why they wanted off the case.
Hazel issued a similar order, saying the current team of government lawyers will not be allowed off the case unless they "provide assurance of an orderly transition between the withdrawing attorneys and new counsel. This requires more than just the effort of the new DOJ team, but the involvement and availability of the withdrawing attorneys."
Attorney General William Barr said Monday he endorsed the notion of putting new teams of lawyers on the cases. Given the Justice Department's decision to press ahead, "I can understand if they're not interested in participating in this phase," he said.
Justice Department officials said privately that Barr acted before the lawyers could officially object to further work on the matter.
The Trump administration continues to print the census forms without the citizenship question. But both President Donald Trump and Barr have said an announcement is coming soon that will explain how the administration intends to make the citizenship question part of the census process.