'Salvini was right', migrant tells Euronews
Comments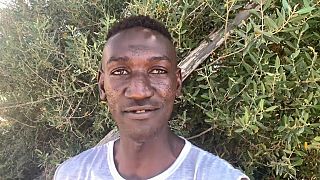 -
Khadim Diop, a 24-year-old from Senegal, spoke to Euronews shortly after the Sea-Watch 3 rescue ship docked in Lampedusa port on Saturday.
The migrant rescue ship is at the centre of a standoff with the Italian government since its captain, Carola Rackete, decided this week to enter Italian waters in order to carry the 40 passengers to safety, after more than two weeks at sea.
Italian police arrested Rackete on Saturday morning as the boat reached the port of Lampedusa.
READ: Italian police arrest captain of migrant rescue ship Sea-Watch 3 after docking
Speaking to Euronews, Diop praised the boat's captain and spoke of his own experiences as a migrant.
Diop said he left Senegal in October 2017 in the hope of reaching Europe.
He said he now hopes to settle in France, Germany or the Netherlands.
Asked about his opinion on Matteo Salvini, the Italian Interior Minister who has ordered humanitarian ships to stay out, Diop said: "He is right in some ways ... Because he says, he always explains that he wants to share. Germany takes its share, France takes its share, the other countries take their share. But we should not leave everything [to one country]."
READ: Why did Sea-Watch 3 decide to enter Italian territorial waters?
This story was updated on July 2 to remove references Diop made to being aboard Sea Watch 3. Sea Watch denies Diop's claim that he was on the boat and Euronews has not been able to verify the situation independently.
Want more news?