Watch again: Hong Kong chief 'sincerely' sorry over protests — but won't resign
Comments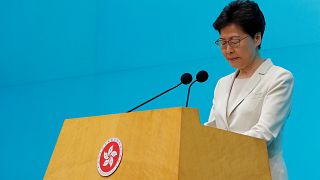 -
Hong Kong's Chief Executive Carrie Lam made a "sincere and solemn apology" over her handling of proposed extradition measures on Tuesday — but she ignored calls from opponents to resign.
"I need to do a better job," she told reporters after an estimated crowd of up to two million protested against changes that would enable authorities to send some suspects to stand trial in Chinese courts.
She said the unpopular bill would not be revived during the current legislative session but refused to formally retract it.
"In recognition of the anxiety and fears caused by the bill in the last few months, if we don't have confidence from the people we will not proceed with the legislative exercise again," Lam said.
"I will not proceed with this legislative exercise if these fears and anxieties could not be adequately addressed," she said.
The plans touched a nerve in Hong Kong, a city anxious over the increasingly authoritarian Communist rule of Chinese President Xi Jinping.
The uproar also has highlighted worries that Hong Kong is losing the special autonomous status China promised it when it took control back from Britain in 1997.
Scenes at the protests were similar to demonstrations in 2014, when people camped for weeks in the streets demanding direct elections of the city's chief executive, who is chosen by a pro-Beijing committee.