Trump claims on eve of reelection launch that ICE will begin deporting 'millions'
Comments
By Allan Smith and Julia Ainsley with NBC News Politics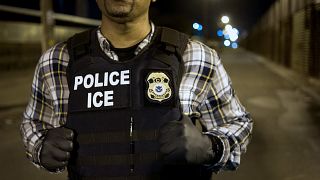 -
Copyright

David Maung Bloomberg via Getty Images file
President Donald Trump announced on the eve of launching his reelection campaign that Immigration and Customs Enforcement would soon deport "millions" of undocumented immigrants living in the U.S.
"Next week ICE will begin the process of removing the millions of illegal aliens who have illicitly found their way into the United States," Trump tweeted Monday night, less than 24 hours before officially opening his reelection bid with a rally in Orlando, Florida.
Two Department of Homeland Security officials told NBC News that the "millions" figure the president used in his tweet was likely overblown.
ICE did not comment when NBC News requested more information on Trump's announced action. The White House did not immediately respond to a request for comment. The agency's acting director, Mark Morgan, recently told reporters that he planned to ramp up interior immigration enforcement and deport more undocumented families from the country.
Deportations from the interior of the U.S. are down because of a lack of bed space at detention centers due to the influx of migrants being apprehended and held in ICE custody after crossing the border.
After being arrested, migrants are held in detention centers while repatriation arrangements are made with their home countries, but those centers are at or near capacity because of the influx of immigrants.
Deportations peaked at around 400,000 a year at the beginning of this decade and decreased to about 250,000 or fewer undocumented immigrants annually in recent years, according to ICE statistics.
This isn't the first time Trump has pledged to rapidly deport millions of undocumented immigrants. During a post-election interview with CBS News' "60 Minutes" in November 2016, Trump said he planned to immediately deport 2 million to 3 million undocumented immigrants with "criminal records" shortly after his inauguration. In an August 2016 immigration speech, Trump said that those deportations would begin on "day one," saying, "My first hour in office, those people are gone."
In a 2015 interview with MSNBC's "Morning Joe," Trump said he would create a "deportation force" to remove the millions of undocumented immigrants living in the U.S.