Hong Kong leader issues 'sincere apology,' refuses to resign or withdraw bill
Comments
By Alexander Smith with NBC News World News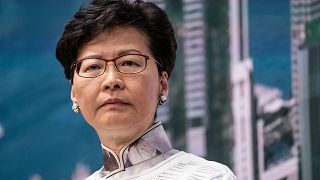 -
Hong Kong's leader personally apologized after more than a week of mass protests but stopped short of offering her resignation, one of the protesters' demands.
Carrie Lam, Hong Kong's chief executive, told a news conference on Tuesday "I have have to shoulder much of the responsibility," after organizers claimed up to two millions people took to the streets on Sunday, one of a string of protests over the past nine days against a controversial extradition bill.
"I tender my sincere apology to the citizens of Hong Kong," Lam said. "This incident has made me realize that I need to do more." The leader added that she could "understand the feelings of the public" and acknowledged there had been "inadequacies of the government."
The protesters are angered by a law that would allow suspected criminals to be extradited to mainland China from Hong Kong, which Beijing governs as a semi-autonomous region.
Critics say it risks the city being drawn into mainland China's legal system, which human rights groups say is rife with abuses and is used to silence dissenters.
On Saturday, Lam's government issued a statement saying that she apologized, and announcing that legislative debates around the law would be postponed.
Lam doubled down on that apology in front of cameras and reporters Tuesday. She also said the bill would not be reintroduced unless "these fears and anxieties cannot properly be addressed." However, she notably refused to use the word "withdraw" despite being pressed by several reporters at the news conference.
She also responded to allegations of police heavy-handedness during the protests saying that there already existed systems to hold these officers to account, resisting calls to set up a separate inquiry.
At a demonstration last Wednesday a small number of the protesters clashed with police, who in turn fired tear gas, pepper spray and rubber bullets into the crowd.
Lam said that only those involved in violence would potentially fall foul of Hong Kong's anti-rioting laws, backtracking from previous police statements suggesting the entire protest would be classed as a riot.
Outside Lam's news conference, protesters booed after her statement, saying her concessions were not enough. The most recent mass protest Sunday saw as many as 2 million people take to the streets, demanding her resignation and that she formally withdraw the bill.
As well as declining to fulfill several of their demands at Tuesday's news conference, Lam made it clear she intended to serve the remaining three years of her term as chief executive.
Hong Kong was a British colony until it was handed back to China in 1997. It has its own political and financial system, as well as a level of freedom of speech effectively outlawed everywhere else on the Chinese mainland.
Its chief executive is not directly elected by Hong Kongers but instead chosen by a 1,200-member committee. Hong Kong's "Umbrella Movement" of 2014 called for democratic reforms to this process but these were rejected.