Hungarian rescuers find four more bodies in Danube River sunken boat
Comments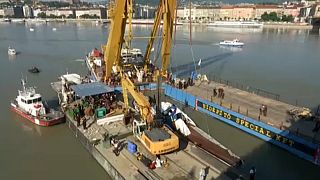 Rescuers in Hungary have pulled four more bodies from the Danube River in the operation to recover bodies from the wreck of the sightseeing boat which sank in Budapest on May 29, with 33 South Korean tourists and two Hungarian crew on board.
The Mermaid sightseeing boat sank within minutes after colliding with the Viking Sigyn, another river cruise vessel that was conducting tours on the river.
Survivors said the small sightseeing boat had almost finished an hour-long night tour of the Hungarian capital and was nearly at its stop when a larger cruise ship hit it under a bridge near the parliament building.
A total of 26 tourists and two Hungarian crew have lost their lives in the worst accident on the river in half a century. So far, all but four of the bodies of the victims have been recovered, with others believed to still be trapped inside the wreck, which divers had not been able to reach since the accident because of high flood waters and strong currents.
A representative of the Hungarian special forces coordinating the rescue operation said that one of the bodies was found today when the captain's cabin came to the surface, adding that more checks will be made in parts of the vessel where there may be more victims.
The Hungarian state news agency reported that a total of four victims were found today.
Meanwhile, the 64-year-old Ukrainian captain of the Viking Sigyn cruise liner has been detained and faces charges for criminal negligence on a public waterway. His lawyers say he is devastated, but stress that he did nothing wrong.