Greek Prime Minister Alexis Tsipras announces early general elections
Comments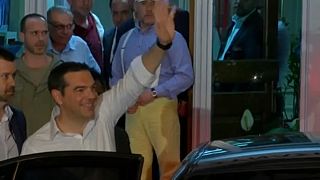 With the phrase "I will not escape, I will not run away," Prime Minister Alexis Tsipras announced early general elections in Greece after his Syriza-led government suffered heavy defeats in European Parliament, local and municipal elections.
The gauntlet had been thrown down by Kyriakos Mitsotakis, the leader of the main opposition New Democracy party, and by Kinal leader Fofi Gennimata, who had called on Tsipras to resign and hold early general elections.
The scale of the recent electoral defeats appear to have surprised the government, which did not expect New Democracy to win by 9.4 percentage points. But what actually led to the biggest ever electoral gap between the first two parties in Euro elections?
Maria Karaklioumi, a political analyst at polling company Rass, explains:
"The main reason that New Democracy succeeded in this election was that people in Greece four years ago had invested their hope in Syriza and Alexis Tsipras. Unfortunately, their hope was not fulfilled. The main reason is so much taxation for the middle class and policies that were not explained sufficiently to the average Greek citizen," she said.
"Alexis Tsipras has declared himself to be ready for battle, pitching the fight as one between progressive forces representing the many, and the old political establishment that brought Greece to the brink of financial collapse. Syriza lost 600,000 voters since the last general election in September 2015. On top of that, Tsipras also faces a challenge from his former finance minister Yanis Varoufakis, whose Mera 25 party did unexpectedly well in the European election in Greece, even if it narrowly misses winning a seat in the EU parliament," said Euronews correspondent Nikoletta Kritikou.
"The Kinal party came third and this is very significant because in the event that there is not a majority, it would get the third option to try to form a government. And the most important thing is that it pushed the fascist Golden Dawn party out of third place. It is particularly positive that a time when the far right is rising in Europe, in Greece we have a retreat of its forces," said journalist Nikos Felekis.
1.59
These general elections will be the first for Greece in the post-memorandum era and the political reality appears to have changed. Some of the smaller parties that emerged over the past four are not likely to get into Greece's 300-seat parliament this time as they may not reach the minimum 3% voter threshold that is needed, while the parties of two new players - Kyriakos Velopoulos and Yanis Varoufakis - could poll above 3% and get into parliament, according to pollsters.